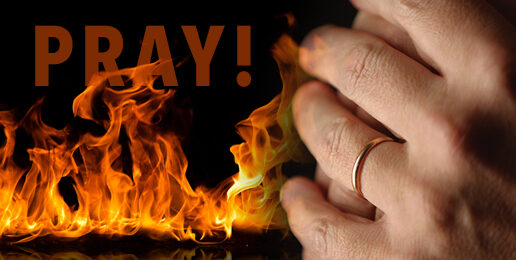 Prayer When All Hell Is Breaking Loose
Many of us were deeply troubled and/or surprised by the news that Russia started a more active invasion of Ukraine a couple of weeks ago. With this tragic news came the call to prayer. If you are honest, it seems almost too overwhelming to pray in the face of such massive evil, chaos and destruction. Does offering up a little prayer when Russian tanks, planes, helicopters, ground troops, and artillery are bombarding Ukrainian cities do anything? Does it mean anything?
It is good to honestly ask questions like these. As much as we don't like to feel this way, how much worse would it be if we thought that our prayers were magical. Consider the horror of thinking you could direct the outcome of these massive situations based on your prayers alone. It is good and right to remember our own insignificance.
So, when you are discouraged or overwhelmed in prayer, what should you do? Thankfully, Scripture does give us direction even as we face situations not always identical to what God's people of old faced.
First, there are seasons when it seems that our prayers are not answered. The sons of Korah in Psalm 44 lamented,
22      Yet for Your sake we are killed all day long;
We are accounted as sheep for the slaughter.

23      Awake! Why do You sleep, O Lord?
Arise! Do not cast us off forever.

24      Why do You hide Your face,
And forget our affliction and our oppression?
Second, although we are taught not to use vain repetitions, the command in prayer is that we keep praying without quitting.
1 Thessalonians 5:17 pray without ceasing (NKJV)

1 Thessalonians 5:17 constantly pray (NET)
Our prayers are like bullets fired in battle. Did any single bullet win World War II? Imagine being a solider during a difficult campaign and saying, well, I fired 200 rounds and we haven't won yet, so firing my gun doesn't do anything.
Third, as best as we can we should pray intelligently and according to the situation. We see in the writings of the Apostle Paul that he prayed according to the situation of those whom he was writing. He also requested prayer according to the situations he was facing.
Colossians 1:9-10   For this reason we also, since the day we heard it, do not cease to pray for you, and to ask that you may be filled with the knowledge of His will in all wisdom and spiritual understanding; that you may walk worthy of the Lord, fully pleasing Him, being fruitful in every good work and increasing in the knowledge of God; 

Colossians 4:2-4   Continue earnestly in prayer, being vigilant in it with thanksgiving; meanwhile praying also for us, that God would open to us a door for the word, to speak the mystery of Christ, for which I am also in chains, that I may make it manifest, as I ought to speak.
Consider the situation in Ukraine, pray for churches, missionaries, and the spread of the Gospel even through suffering. We pray that the conflict can be brought to an end soon and that God will bring His justice, and those who are responsible for the conflict brought to judgment.
Fourth and finally, we come with utter humility and confidence that the Lord alone can deliver and help us. There is no power in our own words. Our prayers indeed are very weak, but our God is mighty to save. He loves for His children to cry out to Him.
Consider one of the accounts that is told three times in the Old Testament, the Assyrian invasion of Judah. After King Hezekiah received a very threatening letter from Sennacherib, he was very troubled.
Isaiah 37:14-17   And Hezekiah received the letter from the hand of the messengers, and read it; and Hezekiah went up to the house of the LORD, and spread it before the LORD. Then Hezekiah prayed to the LORD, saying: "O LORD of hosts, God of Israel, the One who dwells between the cherubim, You are God, You alone, of all the kingdoms of the earth. You have made heaven and earth. Incline Your ear, O LORD, and hear; open Your eyes, O LORD, and see; and hear all the words of Sennacherib, which he has sent to reproach the living God.
In the face of incredible odds, the LORD defended His people and brought a tremendous judgment upon the army of the Assyrians. The angel of the LORD killed 185,000 men of the invading Assyrian army. Eventually Sennacherib faced his judgment.
Pray and don't stop praying. The power is not in your words but in the One who hears.
---