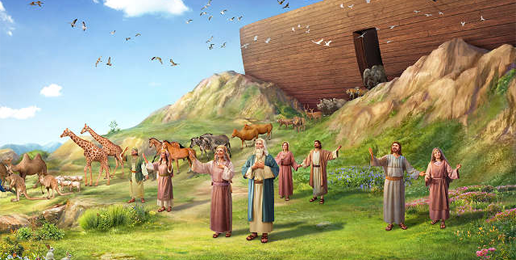 Oh No, Science Might Actually Point to That?
Reading Time:
2
minutes
There is an interesting new scientific study with findings that are unsettling for those with a secular worldview.
Senior Research Associates, Mark Stoeckle and David Thaler of the University of Basel, Switzerland, told the media that "the conclusion is very surprising," and that they "fought very hard against it, as hard as they could."
The reason why the scientists probably did not like their findings is because it has a rather obvious Biblical connection. The UK Daily Mail story, below, made sure that a secular spin was put on this, but it seems obvious that this has Biblical possibilities too.
The study looked at the DNA of five million animals and humans and "deduced that we sprang from a single pair of adults after a catastrophic event almost wiped out the human race." Stoeckle and Thaler concluded that 90 percent of all of today's animal species come from parents that all began giving birth at roughly the same time, less than 250,000 years ago, which raises doubts about the theory of human evolution.
"One might have thought that, due to their high population numbers and wide geographic distribution, humans might have led to greater genetic diversity than other animal species. . . At least for mitochondrial DNA, humans turn out to be low to average in genetic diversity," the researchers said.
The scientists don't speculate on what that catastrophic event was, but one could assume it could be either creation itself, or perhaps a global flood as taught in Scripture. Some headlines said this study points to Adam and Eve, but one could also see conclusions pointing to Noah's family.
Science isn't omniscient or infallible. Evolution is the dominant worldview in which most research is viewed and presented. Still, it is a fascinating study that you can read more about HERE.
---
This article was originally published by AFA of Indiana.