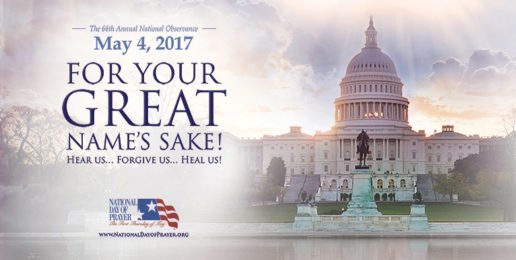 National Day of Prayer on May 4th
The National Day of Prayer's purpose is to honor God and to bring together the Christian community to intercede for America's leaders and its families.
The 2017 event is scheduled for Thursday, May 4th in cities all across the nation.
The theme is "For Your Great Name's Sake! Hear Us…Forgive Us…Heal Us!" You don't have to look far to see the deep need for healing in our country. While it could be disheartening, consider that we can boldly approach an incredible all-powerful, almighty, trustworthy and faithful God, who longs to hear from His children.
At this crucial time in our nation, we can do nothing more important than pray.  Thank you in advance for placing a priority on the gift of prayer and for standing alongside other believers across the nation.
Click HERE to find a location near you.