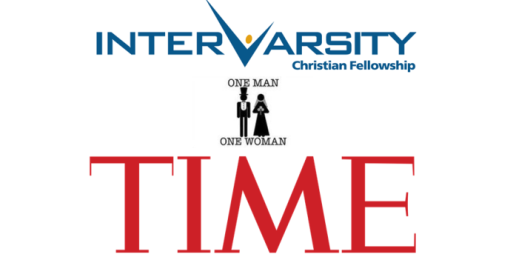 InterVarsity Christian Fellowship Causes Uproar By Affirming Scripture
No, the title of this article was not ripped from the virtual pages of the satirical website Babylon Bee.

A Time Magazine article on InterVarsity Christian Fellowship's (IV) 20-page internal policy position paper on human sexuality is generating a huge brouhaha.
IV, an evangelical parachurch organization that includes 667 college chapters as well as InterVarsity Press which publishes books by D.A. Carson, William Lane Craig, Os Guinness, J.I. Packer, R.C. Sproul, and John Stott, distributed this position paper, which addresses sexual abuse, divorce, premarital sex/cohabitation, adultery, pornography, and same-sex "marriage," to employees in March 2015. Beginning in November 2016, employees will be required to affirm these historical and biblically consonant positions.
It will come as no surprise that the IV position that is causing all the vexation,  huffing, and puffing is its position on marriage—a position that "progressive" disciples of diversity believe no individual and no organization should be permitted to affirm. And I guess that goes for Jesus who created marriage:
"He answered, "Have you not read that he who created them from the beginning made them male and female, and said, 'Therefore a man shall leave his father and his mother and hold fast to his wife, and the two shall become one flesh'?
As theologian Denny Burk tweeted, "We live in a day when this is news: Intervarsity stands with scripture and the consensus of the entire 2,000-year history of the Christian church."
Leftists are fake-enraged over this non-news, and others are wondering why the theologically orthodox IV is making clear its theologically orthodox views on marriage now.
There are two good reasons for IV to make clear its views on marriage now, neither of which should need to be identified but for the cave-dwellers among us, here they are:
1.)  If churches and parachurch organizations are not crystal clear in articulating their positions on matters related to sexuality and if they do not require affirmation of and behavioral adherence to these theological positions, the litigious Left will come after them.
2.) The anti-cultural mess we're mired in has resulted in either the church's cowardly silence on essential matters pertaining to homosexuality or its embrace of heretical views on these matters. Between the corrosive ideas on sexuality in general and marriage in particular that pervade American public life, Christians and especially young Christians are being deceived. Christians need clarity, correction, and unequivocal, unambiguous teaching.
A young IV worker cited in the Time Magazine  article provides troubling evidence of the heretical views being adopted by Christian youth:
Bianca Louie, 26, led the InterVarsity campus fellowship at Mills College, a women's liberal-arts school in Oakland and her alma mater….Louie and about 10 other InterVarsity staff formed an anonymous queer collective earlier this year to organize on behalf of staff, students and alumni who felt unsafe under the new policy. They compiled dozens of stories of individuals in InterVarsity programs and presented them to national leadership. "I think one of the hardest parts has been feeling really dismissed by InterVarsity….The queer collective went through a very biblical, very spiritual process, with the Holy Spirit, to get to where we are. I think a lot of people think those who are affirming [same-sex marriage] reject the Bible, but we have landed where we have because of Scripture, which is what InterVarsity taught us to do.
I'm pretty sure it was neither Scripture nor the Holy Spirit that led the queer collective to affirm same-sex "marriage."
Theologically orthodox pastor and well-known speaker Skye Jethani has written a very good blog post articulating the reasons IV's policy directive is both a "big deal" and a good and even necessary document. That said, Jethani concludes his post with this head-scratching comment:
However, I do grieve that rather than allowing Christians, and particularly younger Christians, grow in their understanding of these matters in an environment of grace and inclusivity, wonderful ministries like InterVarsity are being forced to take premature and artificially divisive stands.
Would Jethani grieve if IV were to take an unequivocal and explicit position on consensual adult incest, bestiality, polyamory, or slavery? Would he grieve if IV required employees to affirm biblical positions on these issues rather than allowing them to "grow in their understanding of these matters in an environment of grace and inclusivity?" How is requiring employees to hold fast to biblical truth lacking in grace?
And although Christianity (like "progressivism") is exclusive in that it holds some beliefs to be false, it is inclusive in that anyone who repents and follows Christ is included. In order to repent and receive God's grace and mercy, people need to know what constitutes sin. And surely those, like IV employees, who already claim to be Christ-followers, should know and affirm truth.
Moreover, IV's position is neither premature nor artificially divisive. If IV has employees who reject biblical truth on marriage, heresy has created the division—not IV. And if IV has employees that embrace heresy, IV is late to the party decorated with rainbow-appropriated streamers.
Marriage is a picture of Christ and his bride, the church. The belief that marriage can be the union of two men or two women necessarily entails the belief that there is no difference in role, function, or nature between Christ the bridegroom and his bride, the church. Further, affirming the false belief that marriage can be a same-sex union undermines respect for the authority of Scripture and not just on marriage.
Every church and parachurch organization and every Christian should explicitly affirm the biblical view of marriage as InterVarsity Christian Fellowship has done.
---
---
Our get-out-the-vote campaign is up and running. We are distributing the IFI Voter Guide to hundreds of churches, civic groups and tea party organizations. Will you financially support our endeavor to educate Illinois voters and promote family values?  Donate today.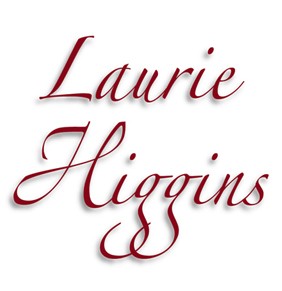 Related Articles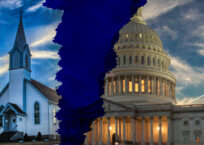 Do Christians Regularly Violate the Separation of Church and State?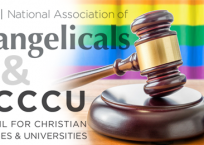 Evangelical Leaders' Devilish Deal