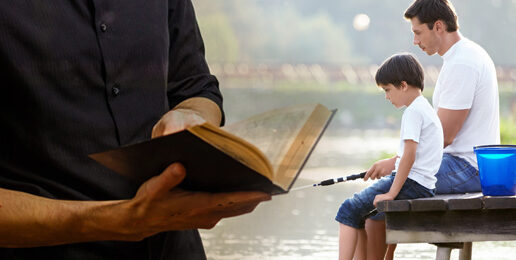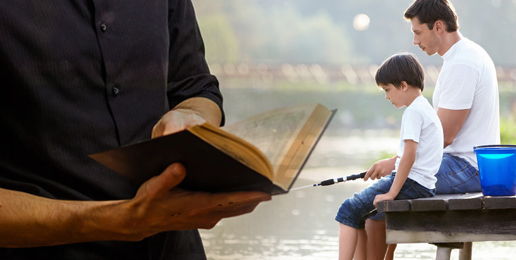 Being a Real Man
Our culture can't seem to agree on what masculinity should look like, nor what it means to be a "real man." Some promote the concept of "toxic masculinity" while others strongly condemn it. Who is right? Do men have a problem?
As always, the Bible gives us some answers.
Before we get to that, let's acknowledge one point. Although I don't like the term "toxic masculinity," we need to recognize that sin perverts everything it touches. That includes masculinity. There are definitions and manifestations of masculinity in our culture today that are perverted by sin, yet some men unfortunately hold onto them. Whether it's defining manhood based on sexual conquest, brute force, or an unquenchable lust for power, perversions of what it means to be a true man exist in our culture.
But acknowledging that basic truth doesn't mean that all definitions or forms of masculinity are "toxic" or that we need a wholesale rejection of all traditional ideas of what it means to be a true man. What it does mean is that we need to make sure our ideas of manhood are aligned with the Bible rather than our culture.
So what does the Bible tell us and show us about being a true man?
Let's first take a quick step back to the issue of sin and observe that any definition of masculinity that tries to encompass behavior or attitudes that the Bible would label as sinful can't be right. Thus, pride, arrogance, selfishness, lack of self-control, a quick temper—these aren't part of Biblical masculinity. Those are perversions. Jesus wasn't an arrogant jerk or a macho chest-thumper—and we shouldn't be either.
But let's also acknowledge that God made men and women differently and there's nothing intrinsically wrong or toxic about either true masculinity or femininity.
As we look at the Bible, we can learn both from the instructions and examples we see in its pages. Here are some qualities that I believe are important for a true man to display in his life.
Boldness
Jesus—our ultimate example—was bold. He wasn't afraid to speak the truth to those in positions of power and influence. We would do well to follow his example. A true man needs to be willing to stand up for what's right whether it's easy or not. Besides Jesus, I'm also reminded of the examples of the Apostle Paul, David, Daniel, Elijah, and others who stood strong in the face of opposition in order to do what was right.
Boldness, however, should never become a cover for rudeness or a lack of love. We should speak the truth in love, as Paul reminds us in Ephesians 4:15, and our speech should always be with grace, as he instructs in Colossians 4:6. There are times we need to allow humility and love for others to smooth the rough edges off our boldness.
Loving
A man's display of love may look different than a woman's, and that's fine. But the definition of love found in 1 Corinthians 13 applies to all believers, both men and women. There may not be one universal way to display love, but there are some universal things that love is and is not. True manliness isn't at odds with love and all the qualities it contains.
Let's also remember that displays of the more tender emotions aren't incompatible with true manliness either. Jesus wept at the tomb of Lazarus, and we can certainly imagine strong emotions as He lamented over Jerusalem in Matthew 23:37. The Psalms, many of them written by David—a real man if ever there was one—express plenty of emotion. Real men can be tender, compassionate, and yes, even emotional.
There are times, of course, that we need to put emotions aside and take care of the task at hand. But suppressing our emotions or our more tender side doesn't need to be our constant condition. 
Self-Sacrificing
Once again we can turn to Jesus as our ultimate example. As the perfect display of self-sacrifice, He gave His life to pay for the sins of the world even though not a single one of us deserved it. In addition, Jesus pointed out to His disciples that he came to serve others, not for others to serve Him (Matthew 20:28). That's our model.
True manliness isn't about looking out for Number One. It's not about getting our own way in a dog-eat-dog world. Instead, we should be looking out for the needs of others.
Faithful
A true man should be faithful. This should encompass everything from faithfulness to God, to faithfulness to his wife, to faithfulness to his own word and commitments. A man who can't be trusted due to a lack of integrity and faithfulness isn't practicing Biblical manhood. In fact, he may be violating some of the most basic principles of manliness by leaving those around him vulnerable and unprotected due to his unreliability.
Surrendered
Jesus came to do the will of His Father (John 6:38). He wasn't here to advance His own agenda. In the same way, those of us who seek to be real men in the truest sense should be surrendered to the will of God. Our aim shouldn't be to live for our own glory or advancement, but for the glory of God and the advancement of His kingdom.
Living for something greater than ourselves is something that I think most of us aspire to. That's why we love the stories of heroic soldiers who give everything to defend home and country or protect their fellow soldiers. God gives us that opportunity to live for something bigger by calling us into His service.
Many More
We've only scratched the surface here, of course. There are many other qualities we could discuss: integrity, honesty, diligence, perseverance—the list could go on and on.
God wants real men to serve Him. Being a follower of Jesus doesn't require us to become weaklings who leave masculinity behind. The Bible is full of stories of real men who did amazing things by the power of God. We can aspire to the same. But we'll do best when we put aside what our culture says about masculinity—positive or negative—and embrace God's vision for what it means to be a man.
---