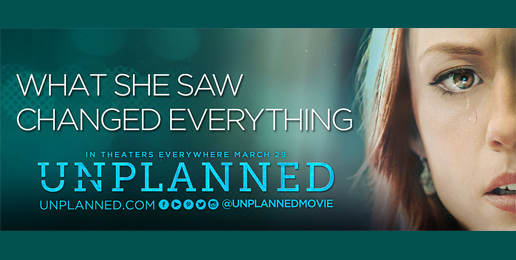 UNPLANNED Showing in Flossmoor
September 11, 2019 @ 7:00 PM
-
9:00 PM
|
Recurring Event
(See all)
One event on September 12, 2019 at 7:00 PM
See the true story that will give you a new understanding and appreciation for the gift of life.  Whether you are a believer or a skeptic in our ability to affect the course of events in our society today, see the movie that is doing just that!
Abby Johnson was a young college student who wanted to make a difference in the world.  She wanted to make life better for young women and be the person providing them with opportunities to achieve their dreams.  She believed that was happening as she rose in leadership at the Planned Parenthood facility in College Station Texas.  The true story of how that desire was transformed to a much deeper level of understanding can also be the catalyst that transforms your life.
Make a point of seeing Unplanned at 7pm on Wednesday September 11 or Thursday September 12 in the Holy Family Room of the Infant Jesus of Prague Parish Business Office located at 1120 Douglas in Flossmoor.  Arrive early for coffee and treats and stay for fellowship.  You will learn of opportunities to make life better for young women and help them achieve their dreams for a better life!  Movie begins promptly at 7pm.
Can't make it either evening but would like to see the movie?
Contact Dr. Rich Mantoan at (708) 557-0011 or email him HERE.