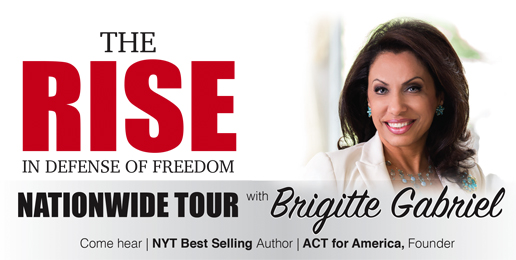 Brigitte Gabriel: In Defense of Judeo-Christian Values & Freedom
August 1, 2019 @ 7:00 PM
-
9:00 PM
Act for America Founder, Brigitte Gabriel will be making a rare
speaking appearance in the Chicagoland area on August 1st!
A Middle Eastern Immigrant turned U.S. Citizen, bestselling author, global expert on terrorism and advocate for freedom and national security, Brigitte will speak on Culture, Immigration and Radical Islam.
Location is in the Lake Zurich area so be sure to save the date and plan to attend. Bring friends and support the work of Act for America!
A book signing and meet and greet will follow her speech. Suggested donation: $20. Come and thank Brigitte for boldly fighting for us every day!
To register, please click HERE.
Do these issues concern you?
Terrorism
Illegal immigration
Constitutional Rights
Female genital mutilation
Indoctrination and foreign influence on public school curriculum
Foreign laws being used in our judicial system
Islamic supremacy doctrine
"No Go Zones" in America
Rising anti-semitism
Anti-Christian bigotry
You need to attend!