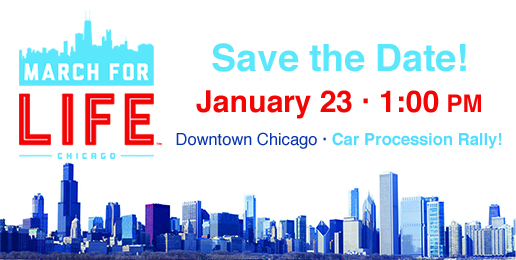 March For Life
January 23, 2021 @ 12:00 PM
-
2:30 PM
Nine years ago when a hundred and fifty people walked at the March for Life Chicago, it was hard to imagine that they'd grow to thousands of people flooding the streets and echoing off the skyscrapers in celebration of Life.
But this year instead of a march they are planning a parade of cars.
Decorate your cars and line up at St. John Cantius Church (825 N. Carpenter St. in Chicago) on the Northside starting at noon. Bring diapers to drop off at the end of the parade at Southside Pregnancy Center (3759 W 95th St. Evergreen Park) at 2:30 PM.
The parade begins at 1:00 PM.
More details can be found HERE.
If you're not from the Chicago area, check HERE to see if there's an event near you.