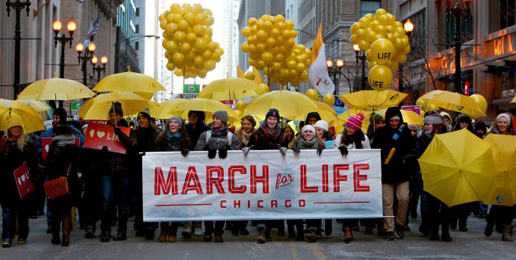 March for Life Chicago 2020
January 11, 2020 @ 1:00 PM
-
3:00 PM
Plan to march with us through the streets of Chicago once again!
Saturday, January 11th, 2020
– Plan a bus trip to the March! We have changed the day of the March to a Saturday to accommodate more groups traveling from across the Midwest. Register your group here!

– Display a March for Life Table at your Church or organization during October's Respect Life Month! We would be happy to send you promotional materials. Facebook Message us!
– Become a sponsor of the March. Visit our website for sponsorship levels and benefits. If we hear back from you by August 15th, your organization's logo could be on our official MFLC flier that will be distributed to all our supporters.
To become a sponsor, please send a check to:
March for Life Chicago
6160 N. Cicero Ave. Ste. 600
Chicago, IL 60646
---
We mark with deep sadness the great tragedy of the legalization of abortion in the United States along with the devastating social, moral, and legal consequences that have followed. Our vision is that, marching together in hope, we call upon religious, civic, and community leaders to renew every effort to build a nation that affirms the authentic dignity of women and men, the gift of children, and a culture dedicated to protecting life at every stage of development in law and love.
Our purpose is to provide an annual public event composed of people from diverse ethnic, social, and religious backgrounds dedicated to defending and protecting all human life.
"The fight for the right to life is not the cause of a special few, but the cause of every man,
woman and child who cares not only about his or her own family,
but the whole family of man." ~Dr. Mildred Jefferson, Pro-Life Activist & Heroine