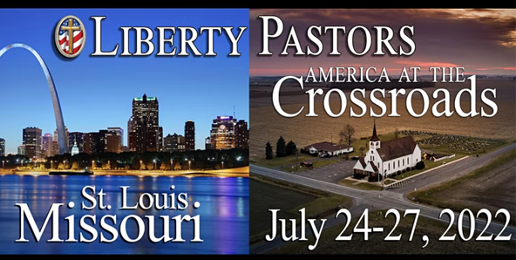 Liberty Pastors Training Camp in St Louis
July 24, 2022
-
July 27, 2022
America at the Crossroads
"The Great Reset" from a Biblical Perspective
July 24-27, 2022
So many claim to be followers of Christ but do not! Statistician George Barna reports that 2/3 of pastors and 94% of professing Christians do not have a Biblical Worldview. The mission of Liberty Pastors is training pastors to think Biblically in every area of life, including the realms of civil government, economics, human sexuality, charity, and family…and then live out this faith!
Biblical training on how to become a Black Robed preacher/leader in the 21st century:
What part of your life is Jesus not Lord over?
Proper roles of Government: self, family, church and civil
Biblical Principles of Civil Government
What does it mean to be a Black Robe preacher?
Does Rom 13:1-5 demand unlimited submission to government?
Should you fear the IRS and worry about your church's 501-C3 status?
Is the Johnson Amendment constitutional and should pastors obey it?
How do I deal with the myth of "Separation of Church and State" in my pulpit?
What do I say when I am accused of preaching politics over the Gospel
How do I become a Black Robe preacher and join the Black Robed Regiment?