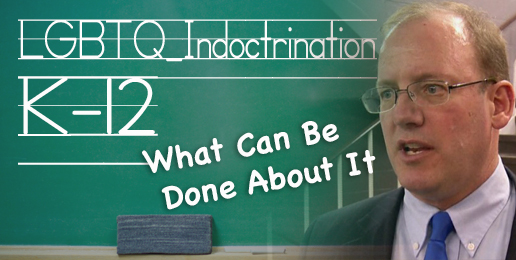 LGBTQ Education in Elementary School – Anti-Bullying or Indoctrination?
October 5, 2019 @ 10:00 AM
-
12:00 PM
Governor JB Pritzker recently signed into law a mandate that all elementary school students be taught the contributions of LGBT individuals and demonstrate competence in this topic prior to receiving their grade school diploma.  While this was another in a recent string of victories for the LGBTQ movement, it is also in stark contrast to what the movement stood for in the past – which was that a person's sexual orientation was irrelevant to that person's qualifications for any job and was a purely private matter.
So why the change?  Should children as young as kindergarten be taught about sexual orientation and transgenderism?  Does teaching children about these issues at such a tender age trample upon the rights of parents to instruct their children's moral upbringing?  And if so, what can be done about it?
These topics and more will be discussed by Peter LaBarbera at the next meeting of the Conservative Reform Republicans on October 5 as we present "LGBTQ education in elementary school — anti-bullying or indoctrination."
WHEN:  Saturday, October 5, 2019
WHERE: Christian Liberty Academy
                   502 Euclid Avenue
                   Arlington Heights, IL
TIME:  10:00 AM
Mr. LaBarbera is the founder and president of Americans for Truth (www.AFTAH.org), a former reporter for the Washington Times, and a contributor to LifeSiteNews.com, one of the world's leading pro-life and pro-family news sites.  He also served as executive director of the Illinois Family Institute, and as a writer, editor and analyst for Family Research Council, Concerned Women for America and Accuracy in Media. Peter is also founder of a new organization, Center For Morality, devoted to supporting in-depth research in the defense of historic Judeo-Christian sexual morality.
Parking is available in the Walnut ave lot on the east side of the building. Please enter via the first entrance on Walnut Avenue.