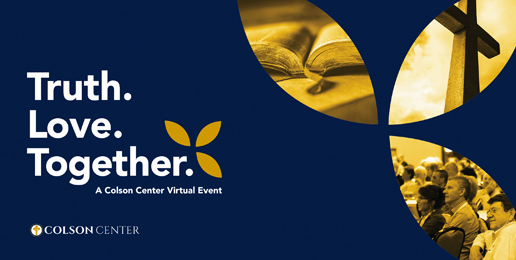 FREE Colson Center for Christian Worldview Events
May 18, 2020 @ 12:00 AM
-
June 18, 2020 @ 11:59 PM
|
FREE
The truth of the Gospel isn't meant to stay in your head. It's meant to take on flesh and change the culture. But where do you start? You start by learning from the best.
In the wake of the cancellation of their annual Wilberforce Weekend due to the coronavirus pandemic, the Colson Center for Christian Worldview has thrown out the rulebook. They've brought together a stunning lineup of teachers, created online learning modules with them, and are offering it to the entire world…for FREE.
Each Monday beginning on May 18th, a module will be released at 12:00 AM. Each consists of 4 pre-recorded talks. Additionally, each Thursday they will host a live Q&A with one or more of the speakers from that module. The live talks will also be uploaded as part of the module for those who could not watch live.
You can get more information or sign up HERE to be part of this great FREE event.
Module 1: Truth (May 18th – 12:00 AM)
Os Guinness: "1776 vs. 1789: the Roots of the Present Crisis"
Sean McDowell: "What Happened to Truth?"
Abdu Murray: "Can Truth be Known?"
Bonus: Teaching Your Kids Truth in a Noisy World (Natasha Crain)
Module 2: Love (May 25 – 12:00 AM)
John Stonestreet: "What Happened to Love?"
Joni E. Tada: "The Love of God, or How We Know What Love Is"
Chris Brooks: "Loving God, Loving Our Neighbor"
Bonus: "The Four Loves" (Louis Markos)
Module 3: Becoming People of Truth and Love (June 1 – 12:00 AM)
Andy Crouch: The People the World Needs
Brett Kunkle: Why 'Tolerance' Isn't Truth or Love
Michael and Lauren McAfee: Loving the Bible Again
Bonus: "C.S. Lewis: A Man Transformed by Truth and Love" (Max McLean)
Module 4: Telling the Truth Today in Love (June 8 – 12:00 AM)
Lee Strobel: Becoming Stronger Salt and Brighter Light
Promod Haque: Being a Public Witness in an Unbelieving Culture
Obianuju Ekeocha: Why Telling the Truth Is an Act of Love
Bonus: The Case For Speaking Unpopular Truths (J. Warner Wallace)
Module 5: Loving the Victims of Lies With the Truth (June 15 – 12:00 AM)
Katy Faust: The Victims of Sexual Confusion
JP DeGance: How Christians Can Save Marriage
Bob Fu: Why We Must Tell the Truth about Chinese Persecution
Bonus: Telling the Truth about Abortion and All of Its Victims (Kristan Hawkins)