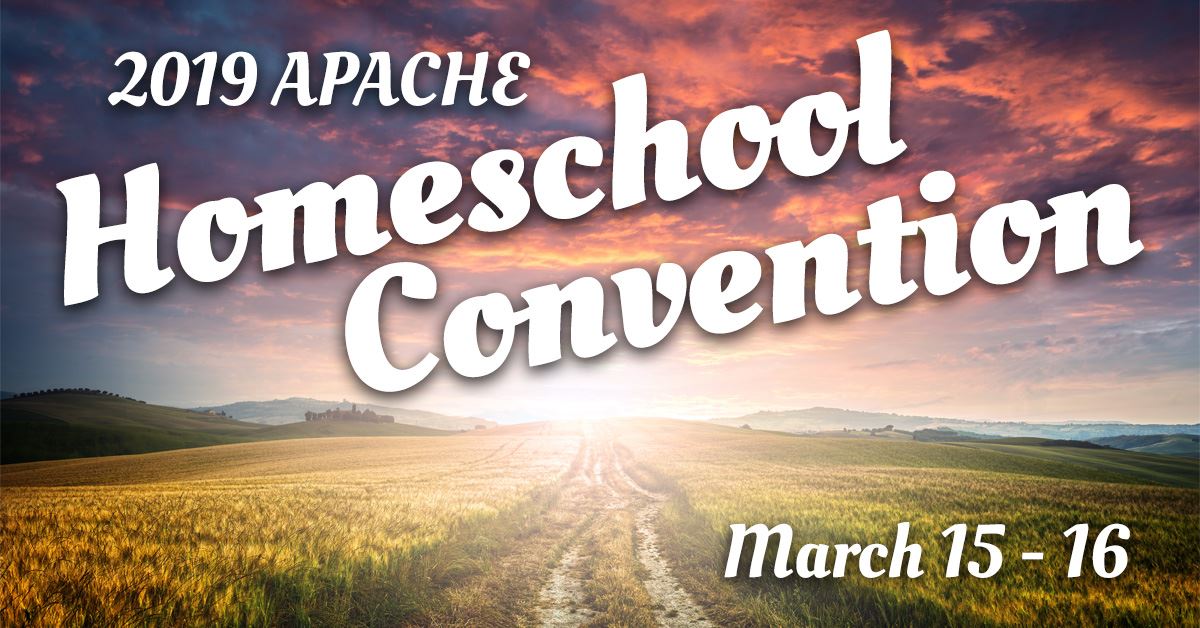 APACHE Homeschool Conference
March 14, 2019 @ 6:00 PM
-
March 16, 2019 @ 5:00 PM
The APACHE Board of Directors and Convention Committee are thrilled to invite you and your family to our 30th Annual Home-school Convention. Many hours of prayer and preparation have gone into planning this year's event and we are excited about the amazing lineup of speakers and vendors that God has provided. We are continuing our efforts to make this a family-friendly event with sessions and classes covering a variety of subjects geared towards children, teens, moms, and dads. APACHE is honored to be a part of equipping and encouraging homeschool families as you follow God's leading in educating and training your children. Come join us for a weekend of encouragement, fellowship, revitalization, and fun. We cannot wait to see you there!
Convention Schedule
6:30 to 9 p.m.

Special Pre-Convention "New to Homeschooling" Night This special event is only for those who are considering homeschooling or have been doing it 1 year or less.

Hear Nancy Bjorkman with "Where Do I Begin?" (6:30 to 7:30 p.m.)
Get practical advice and encouraging tips
Browse and shop our vendor hall (7:30 to 9 p.m.) 
Friday, March 15
| | |
| --- | --- |
| 8:30 a.m. to 5 p.m. | Registration |
| 9 to 10 a.m. | Opening Session: Andrew Pudewa Conquering Corrupt Communication by Raising Christian Communicators |
| 8:30 a.m. to 8:30 p.m. | Vendor Hall Open |
| 10:30 to 11:30 a.m. | Session 1 |
| 1 to 2 p.m. | Session 2 |
| 3 to 4 p.m. | Session 3 |
| 5 to 6 p.m. | Pizza Supper Pre-order pizza, veggies and dessert with your registration ($5 per person or $20 per family) or bring your own. |
| 6:30 to 8:30 p.m. | Family Night Join us for a wonderful time of fellowship and fun! Bring your favorite board game or just come hang out with other families. Childcare is not provided. |
Saturday, March 16
8:30 a.m. to 3:30 p.m.

Registration

9 to 10 a.m.

Opening Session: Sonya Shafer Reaching Your Child's Heart

8:30 a.m. to 5 p.m.

Vendor Hall Open

10:30 to 11:30 a.m.

Session 4

1 to 2 p.m.

Session 5

3 to 4 p.m.4:15 p.m

Session 6 Special Voice Performance 

by the youth who attended the 2 day Choir Camp
Pricing
Whether you attend one or both days, the price is the same.
Adult* Early Registration (postmarked by 2/15/19): Subscriber $40, Non-subscriber $55
Adult* Regular Registration (after 2/15/19): Subscriber $50, Non-subscriber $65
Children: $10 each, $30 family max (age 2 through young adult living at home, attending with parents) 1st – 3rd children are $10 each, 4th child and up are free after the $30 max is reached
Widow/Widower: no charge
Grandparents (not homeschooling, attending with their adult, homeschooling child): no charge
*Spouse is FREE with an adult registration. Does not apply to family members, friend or child.
Registration
Early registration starts Monday, January 7 and ends Friday, February 15. Cost increases by $10 after February 15. You will be able to register online or by mail.