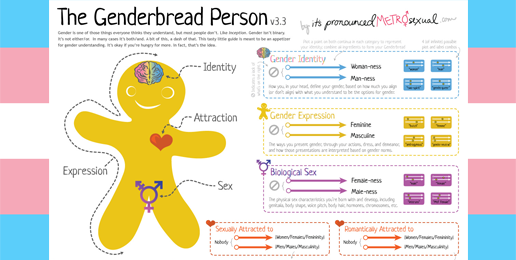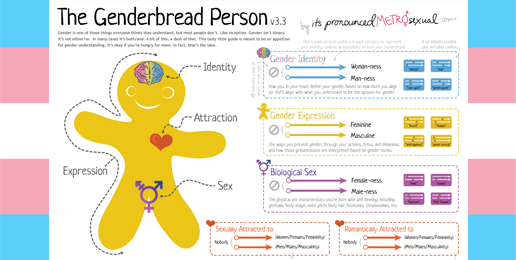 Colorado School Employees Conspire to Change a Conservative Community
Reading Time:
8
minutes
In May of 2021, Wellington, Colorado art and homeroom teacher Jenna Riep invited a 12-year-old girl who was new to the school to attend an afterschool art club. The girl asked for and was given permission to attend the club from her mother. But the artful dodger Jenna Riep had misrepresented the afterschool club meeting. In other words, Riep had lied to the student. It was not an afterschool art club, and the meeting had nothing to do with art. It was a meeting of the school's "Genders and Sexuality Alliance" (GSA) club, and the guest speaker was lesbian Kimberly Chambers, who identifies as an "educator, activist, and queer woman."
Though the wildly inappropriate incident at Wellington Middle School happened a year ago, it has just become a national story in the past two weeks. Consequently, troubling details continue to emerge illuminating the ignorance and arrogance of leftists who are not only ideologically grooming other people's children but also trying to hide their grooming from parents.
Erin Lee, the courageous mother of the student who was lied to by her trusted homeroom teacher, shares that queer activist Chambers told students the following (comments in red are mine):
If a child is not 100% comfortable with her body, she's "transgender." (

FALSE

)
If parents are not "safe," it's okay for children to lie to them in order to attend these club meetings. (

FALSE

)
Whatever is discussed in the club must not be shared outside the club meetings, not even with parents. (

UNETHICAL and INAPPROPRIATE

)
Heterosexuality and monogamy are not normal. (

FALSE and INAPPROPRIATE

)
Chambers told students that she is "safe" and gave them "her personal contact information, and encouraged them to contact her on the social media platforms Discord and What's App." (

UNETHICAL and INAPPROPRIATE

)
Chambers led students in the "Genderbread person activity," which asks students who they are "physically attracted to: men, women, or other gender/s." (

CREEPY

)
Chambers told students about a Colorado law that "allows a minor 12 years of age or older to seek and obtain psychotherapy services … without the consent of the minor's parent or guardian." (

INAPPROPRIATE

)
Imagine if a man on a park bench invited a 12-year-old girl to an art club that turned out not to be an art club in which he asked her if she is physically attracted to men or women, told her that her parents weren't safe but he is, told her not to tell anyone what he had said, and gave her information on how she could secretly contact him. How is what Riep and Chambers did less offensive? Why should anyone presume or trust that public school teachers or unknown speakers are safe?
Lee contacted Chambers who runs an "LGBTQ" activist organization geared toward minors called SPLASH. Chambers confirmed the content of her presentation, and then the busybody/buttinsky Chambers flew to her computer to send an email to Riep, school counselor Katie Delahunt (who uses the pronouns she/her), and "Charlie," warning them to watch out for unsafe parent Erin Lee:
Tread lightly because this parent has HUGE potential to coming in to understanding or rejecting their child. … [C]an you politely remind their student that the room is a safe space and that she should not share the names of her friends in attendance? I'll reply to the email with you all bcc'd. … Any conversation with this parent should have the impression in our minds as "evidence", verbiage is everything.
"Evidence"? Evidence of what? The crime of wrongthink? Leftists who claim to love diversity are always on the prowl for anyone who thinks differently than they do.
Please note the false dichotomy implied in Chambers' statement: Either parents "understand" their gender-confused children or they reject them. And by "understand," Chambers means affirm and celebrate their "trans"-cultic beliefs and practices.
But there is a third possibility. Parents may understand their child, accept and love them, and yet reject "trans"-cultic beliefs and practices.
Chambers has been busy promoting her agenda for years, including bringing drag queen story hour to the Windsor-Severance Public Library in 2018. Chambers believes that children ages 2-8 are "exactly the age group that should be hearing" messages from drag queens.
Three days after the fake art club meeting, the untrustworthy busybody Chambers began agitating for the school to check on the student. At 9:19 a.m. on May 7, 2021, Chambers sent an email to collaborator Riep asking, "Have you been able to check in with [the student] to make sure she is okay?"
Chambers didn't ask if Riep had checked in with the parents to make sure the student was okay. No, parents were excluded. In the inclusive world of leftists, parents who they suspect may be conservative are excluded.
At 4:00 p.m. on the same day, Chambers sent another email to Riep:
If [the student's absence] persists, you'll want to talk to admin about doing a well-child check.
Chambers recommended the school call in the government to check on a child for no reason other than the parents objected to her "trans" indoctrination.
What Chambers did not know and had no right to know was that Lee and her husband had removed their daughter from Wellington and placed her in a safe place—that is, a private Christian school.
Enquiring minds may be wondering why school counselor Katie Delahunt was included in the email from Chambers. As it turns out Delahunt, who is a co-sponsor of the GSA that identifies occasionally as an art club, spearheaded the effort to bring Chambers to Wellington Middle School.
On the morning of April 13, 2021, Delahunt had seen a presentation by Chambers that sent a thrill up her leg, so she emailed Chambers:
Thank you for your presentation this morning! I really appreciated learning more about SPLASH. I co-sponsor the GSA at Wellington Middle School and am excited to share your resources with our students, who are struggling to express their identities in a very conservative community.
Chambers responded equally excitedly that she had long wanted to get into the community of Wellington but needed a connection. A Zoom meeting was scheduled for Monday April 19 at 1:00 p.m. between Delahunt, Riep, Chambers, and the mysterious "Charlie," during which Chambers' visit to the school-sponsored GSA at Wellington was scheduled for May 4.
To be clear, Delahunt assumed the right to use her taxpayer-funded position to change the values of the "conservative community" that employs her. This means that Delahunt had already concluded that "trans" beliefs and practices are right and that dissenting conservative beliefs are wrong, which is her right as an individual. It is not, however, her right to impose her personal moral beliefs in her job as a government employee.
The mysterious "Charlie" is a young woman who calls herself "Silen Charlie Wellington," pretends to be a man, goes by the pronouns "they/them," and describes herself as, among other things, a "witch" and "genderqueer shapeshifter" and works with SPLASH. In a blog post, Wellington waxes positive about polyamory, Tinder "dating," and kink dungeons, and here's an excerpt from a poem written by the troubled Wellington that expresses her anarchical vision for the future:
When I look at my family tree
I want to see drag queens
I want to see gender f*ck aliens and pansy boy princes
I want to see men with crescent shape scars on their chest …
I want to see girls who … had to learn make-up in closets full of stale boy clothes …
I want to see women with 5 o'clock shadows who refuse to pass.
While she may be just the kind of person leftists believe should influence children, I'm not sure how many parents would agree.
After calling Chambers, Lee and her husband met with principal Kelby Benedict and asked to see all the materials presented in the indoctrination session. According to Lee, Benedict said that because all materials used belonged to the speaker, the school does not have access to them.
In addition, Benedict said the school's failure to notify parents about the GSA club meeting was deliberate because the school has "to offer a safe space for kids," and as Lee's daughter learned from Chambers, families are no longer reliably safe.
Perhaps Benedict has never considered that promoting cross-sex impersonation may make kids less safe. Perhaps he should spend some time reading the stories of detransitioners, or reading about the side effects of puberty blockers and cross-sex hormone-doping, or looking at photos of the carved-up bodies of young women.
When the scandal blew up nationally less than two weeks ago, several more troubling things happened. Superintendent Brian Kingsley released a video message with the usual cliché claptrap from the lemming-like world of education. Here is an excerpt:
[W]e have a duty to prepare each of our students for real life. This means providing information and resources about the real world. … To our LGBTQIA+ students and staff and your families: You will continue to be welcomed and celebrated in PSD as your authentic self. Every student is unique and deserves an education system that respects their uniqueness and individuality. To build that system, we have a shared responsibility between families and our school district to keep every student safe. … To achieve that, there must be trusting relationships between students, families and schools. Trust is built through listening, empathy, credibility and transparency. Trust is not built with hate.
Do Kingsley, Riep, Delahunt, and Chambers know the real world includes people who oppose the normalization of cross-sex impersonation, who believe that biological sex exists and has profound meaning, and who believe the shocking increase in adolescent girls who identify as "trans" suggests they have been infected with a social contagion?
Do Kingsley et al. know the real world includes people who think what they–Kingsley et al.–are doing with regard to sexuality is making children far less safe?
Do Kingsley et al. know the real world includes people who understand that adolescents often feel angry or hurt by truthful things adults say?
Do Kingsley et al. know the real world includes people who believe that neither love nor safety requires affirmation of everything people feel, think, and do?
If, however, love and safety do entail affirmation, approval, and celebration of everything people feel, think, and do, will Kingsley, Riep, Delahunt, and Chambers affirm and celebrate authentic Christian, Orthodox Jewish, and Muslim identities in exactly the same ways they affirm and celebrate "trans" identities?
Will Poudre School District provide "information and resources" about the real-world phenomena just listed?
Kingsley asserts that trust is built by transparency—not hate. Why then the lack of transparency? Why aren't parents notified about club speakers and meeting content? Why did Riep tell Lee's daughter that the meeting was an art club? Why are students told that what takes place in a school-sponsored club stays in the school-sponsored club?
And why did Kingsley refer to hate? Is he suggesting that Erin Lee's opposition to non-transparent "trans" indoctrination is hateful?
After Kingsley's video came out on May 13, 2022, the district's communication director sent talking points to teachers telling them how to respond to any calls from community members, the most noteworthy of which says,
If they ask to submit a permission slip saying that their student cannot be in XYZ club, you can respond with: I appreciate that you want to do so, but parents do not opt their students in or out of clubs in [Poudre School District] so there is no option to do so.
That doesn't sound like recognizing the rightful role of parents in their children's lives, supporting parents' roles in advocating for their own children, or partnering with parents—all things government schools purport to value. Rather, it sounds like appropriation of children for the goal of colonizing their minds and hearts with leftist beliefs.
Superintendent Kingsley had some chuckle-worthy and illuminating things to say in an interview with students. Kingsley asserted that "Humility is a huge aspect of me as a person." Between his actions and his oxymoronic claim, I think his humility is huge in the same sense that Bruce Jenner is a woman.
Kingsley went on to talk about representation:
Some people [express themselves] through writing, the arts, athletics, I think really giving a solid look at how we're giving young adults an opportunity to express themselves – and paying attention to that—so students feel like their identities are being affirmed. So, they see themselves in the curriculum.
I'm sure students do want their "identities" affirmed and represented in curricula. So, how about representing those who identify as zoophiles, sibling-lovers, nymphomaniacs, and polyamorists. What about young adults who identify as white supremacists and minor-attracted persons?
And then there are these words from the silly Kingsley, the man with colossal humility:
"I want school to feel like Disney World. It's not just about exchange of knowledge. It's about people feeling connected. 
Yep, the expansively humble Kingsley wants to turn the conservative community of Wellington into a hotbed of connectivity between "LGBTQ" activists and woke cartoon characters.
Listen to this article read by Laurie:
---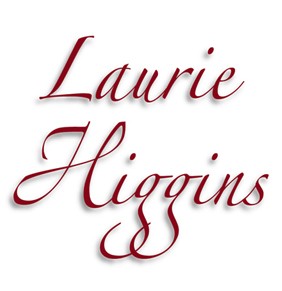 Related Articles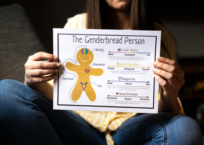 As Parents Resisted Transgender Push, Teacher Suggested Sending in Child Services