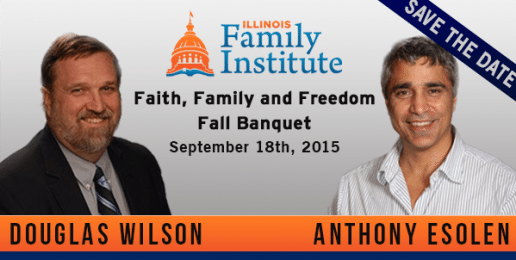 Special Event: IFI Banquet Less Than 5 Weeks Away!!
Early Bird Specials Expire on August 31st!
The Illinois Family Institute's annual fall banquet is just five weeks away! This important event will be held Friday, September 18th at 7:00 p.m. at The Stonegate Conference Center in Hoffman Estates, Illinois.
Our theme this year is "Cultural Cataclysm & Advancing the Truth." And for the first time ever, IFI will be hosting two remarkable speakers, both of whom are prolific authors. (Click HERE for more information about our special guests.) Pastor Douglas Wilson and Professor Anthony Esolen demonstrate the kind of wisdom, courage, and boldness required for such a time as this.
It's not too late to become a banquet benefactor. For more information on helping us underwrite our largest pro-family gathering of the year, please contact Kathy Valente at the IFI office at (708) 781-9328.  As always, we are pleased to recognize in our program all of our benefactors.
Event Details:
Illinois Family Institute
Faith, Family and Freedom Banquet
Friday, September 18 , 2015
The Stonegate Banquet & Conference Center (Map)
Click HERE for a banquet flyer.
Secure your tickets now – click here or call (708) 781-9328.
Program advertisements & banquet sponsorships available.