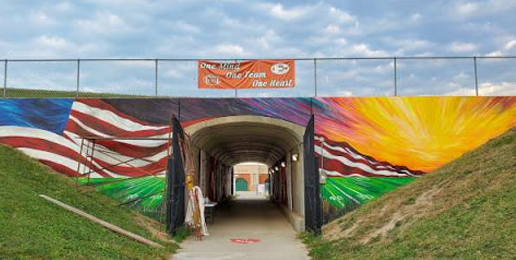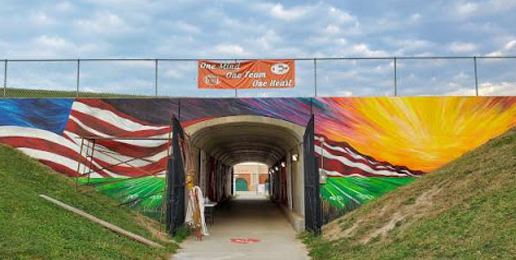 Effingham Removes Cross From Mural After Outside Pressure
After pressure from a group that advocates for the removal of religion from public spaces, a south-central Illinois town has painted over part of a mural that depicted a cross that is a well-known landmark for area citizens.
The mural painted on an overpass next to Effingham High School depicts an American flag stretching across a green landscape towards an illuminated cross that resembles "The Cross at the Crossroads" which stands as a landmark along Interstates 57 and 70. The 198-foot tall cross was installed in 2001 by a faith-based group.
In a May 20, 2020 press release, the city of Effingham stated that while it had no objection to the mural's content or design, it represented private speech on public property. Therefore, "The last thing the City Council wants is for any members of our community to feel excluded or treated as second-class citizens because they hold a minority belief.  It is in service to these principles that the City Council has altered the mural accordingly."
It's unclear exactly when the cross was painted over. According to city of Effingham administrator Steve Miller, the work was done either Tuesday, May 19 or Wednesday, May 20.
In December 2019, The Freedom From Religion Foundation (FFRF) based in Wisconsin sent a letter to the city of Effingham seeking removal of the cross from a mural. The letter complained, "The cross has an exclusionary effect, making non-Christian and non-believing residents of Effingham political outsiders in their own community."
Effingham commissioner Merv Gillenwater told the Effingham Daily News, "This has been a lengthy discussion. We have to be very careful because there are legal issues on both sides. I think we did a good job reaching a conclusion that I hope the citizens understand our position."
"We could pick a side and stand up for either position," said Gillenwater. "And the other group would say we can take you to court. We could spend a lot of years in court. Spend a lot of city money and still not make somebody happy. We had to do what we felt was the right thing to do. And not end up in court."
In February, David Smith, Executive Director of the Illinois Family Institute, sent a letter to Mayor Schutzbach and city commissioners offering the city of Effingham his support.  He said, "We hope that you will not yield to threats to rob you and your community of your rights and heritage."
The mural was commissioned by the Effingham High School Football Moms and painted by local artist Jamie Stang-Ellis. At the time, Effingham Mayor Mike Schutzbach said that while the city gave its approval for the mural to be painted, neither he nor the school knew the cross would be part of the mural.
An online petition, "Let the Cross Stay," at Change.org has nearly 33,600 signatures.
---
We take very seriously the trust you place in Illinois Family Institute when you send a gift.
We understand that we are accountable before you and God to honor your trust.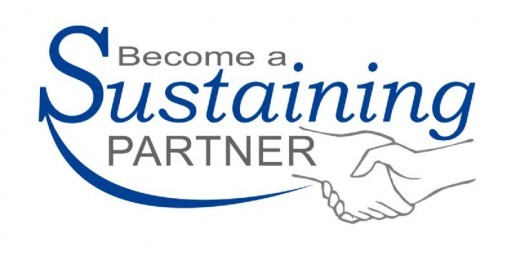 IFI is supported by voluntary donations from good people like you.