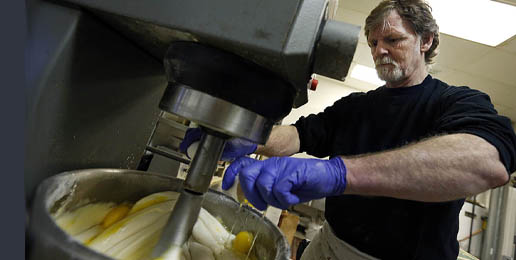 Black Church Leaders Defend Baker in Wedding Cake Case
Written by Casey Ryan
A Colorado baker has a right not to make a wedding cake celebrating a same-sex marriage that is against his faith, and the LGBT agenda is not a new civil rights movement, black Christian leaders said Monday outside the U.S. Supreme Court.
The nine leaders spoke in support of Jack Phillips, whose lawyers will ask the high court Dec. 5 to affirm that his free speech and religious liberty rights under the First Amendment allow him to turn down a request by two male customers to create such a cake.
"The First Amendment gives us the freedom of religion, not the freedom from religion," Garland Hunt, senior pastor at The Father's House, a nondenominational church in Atlanta, said at the press conference in defense of Phillips, who was not there. "The freedom of religion is an inalienable right that comes from God."
In 2012, Phillips declined the business of two men who visited his bakery in Lakewood, Colorado, and asked him to create a cake celebrating their wedding in Massachusetts.
His Christian faith, Phillips has said, teaches that marriage is the union of a man and a woman. He also has said he doesn't design and make cakes that go against his faith in other ways, such as being sexually suggestive or depicting Satan.
Persecution of Christians is real and "coming for America," Hunt said.
Dean Nelson, co-founder of the Frederick Douglass Foundation of North Carolina and senior fellow for African-American affairs at the Washington-based Family Research Council, said Phillips is being attacked because he is a Christian.
"Jack is an honorable man who has served his community through his business for all people, regardless of their race, creed, color, gender, or sexual identity," Nelson said. "Jack as a Christian is compelled to love all people, and this is what he has done for decades."
The press conference was organized by Alliance Defending Freedom, a Christian legal group that defends religious liberty and represents Phillips, and sponsored by the Frederick Douglass Foundation, which promotes Christian and Republican values. The foundation also has launched a website in support of Phillips called We Got Your Back, Jack.
Janet Boynes, author of Called Out: A Former Lesbian's Discovery of Freedom, said the civil rights movement started to help blacks gain their rights and sexual behavior is not the same as skin color.
"I resent having my race compared to what other people do in bed," Boynes said.
LGBT activists want special rights, she said, and she is concerned that people are falling for the idea that homosexuality is not a choice. American culture is in a "downward spiral," she said.
"God only condones and blesses sex between a man and a woman in marriage," she said.
William Avon Keen, president of the Virginia chapter of the Southern Christian Leadership Conference, an organization co-founded by civil rights hero Martin Luther King Jr., said activists for lesbian, gay, bisexual, and transgender Americans have hijacked civil rights.
Unlike many LGBT activists, Keen said, he dealt with separate and unequal public facilities when he was growing up.
Keen said the Bible calls homosexuality a sin.
"We as Christians, we feel that murder is a sin. … We feel that marriage is ordained by God between a man and a woman," Keen said. "We don't believe in the third gender."
He said the civil rights movement of the 1960s was "anti-sin," and that today Christians are "too quiet" on societal issues and need to speak up.
"It is an injustice for our nation or anyone to try to force an individual to deny their faith," Keen said.
---
Article originally posted on Stream.org.
Related Articles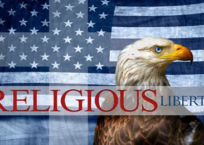 Rod Dreher Warns Christians About "Queer" Assaults on Religious Liberty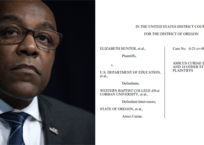 Attorney Generals Attack Christian Colleges and Universities