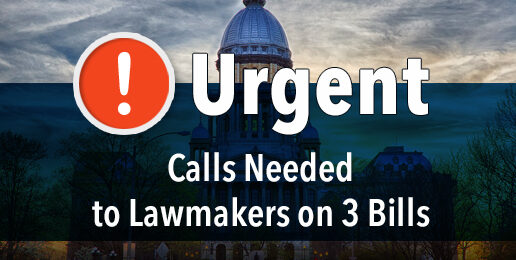 Urgent Calls Needed to Lawmakers on 3 Bills
Reading Time:
2
minutes
Thank you for filing witness slips and emailing your lawmakers on the barrage of bills we have been asking you to take action on. We believe they have made a difference! But we're far from being out of the woods.
The following 3 bills have passed out of their respective committees and will be heard on the full Illinois House or Illinois Senate floor any day now. Calls into the Springfield offices of your lawmakers would be the ideal way to give them pause before they cast their votes. They must understand that their is significant opposition to their left-wing, big government agenda.
Please CLICK HERE to access your state representative's and state senator's Springfield office numbers. You'll find them at the very end of Your State Officials.
Call the appropriate office for these following 3 bills:
Ask your state rep to oppose HB 2039 which allows for your personal health records to be sent to your local health department "for the purpose of preventing or controlling disease…" and allows the Dept. of Public Health, the Dept. of Human Services, and the Dept. of Healthcare and Family Services to "adopt any rules necessary to implement the Act." Think lockdowns and masks.
Ask your state rep to oppose HB 1286 which legalizes and allows construction or conversion of "multiple occupancy restrooms" into "all-gender restrooms" complete with urinals, stalls, partitions, and signage so that both sexes may use the same multiple-occupancy restroom at the same time. If you have a wife, daughter, sister, or mother, "all-gender multiple-occupancy" public restrooms puts them at risk of encountering peeping toms and in danger of sexual assault.
Ask your state senator to oppose SB 1344 which mandates that abortion drugs and transgender hormonal therapy treatment be covered in insurance policies.
CLICK HERE for your state representative's and state senator's Springfield office phone numbers. Please call them today!
Thank you for doing what you can to stall/stop these bill!
---