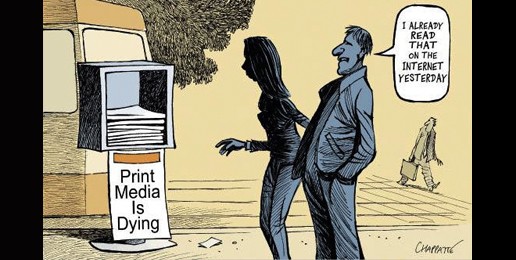 The Demise of Newspapers?
A new poll has found that newspapers continue to decline losing revenue, readers, and value. Over the past decade, weekday circulation has fallen 17 percent and ad revenue has fallen more than 50 percent. Change in ownership is more common too, as many struggling papers are like hot potatoes to investors.   Just last year, three different media companies decided to spin off more than 100 newspaper properties, while holding other media divisions.  The San Diego Union-Tribune was the latest example. Last week it changed ownership for the third time in just six years.
Ad revenue for newspapers is now at its lowest point since 1950, when the US population was roughly half what it is today.  For some, going all digital seems to be the last step in trying to stop the fiscal bleeding. Yet digital revenues are slow going compared to print loses.  In 2011, according to Newspaper Association of America, online advertising was up $207 million industry-wide compared to 2010. However, print advertising that year was down $2.1 billion. So the print losses in 2011 were greater than the digital gains by a 10 to 1 margin.