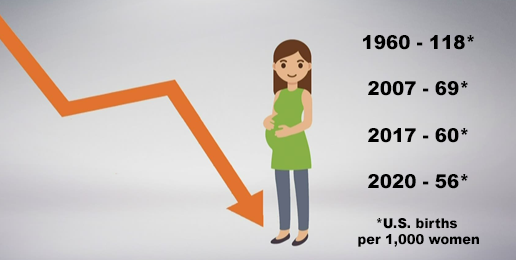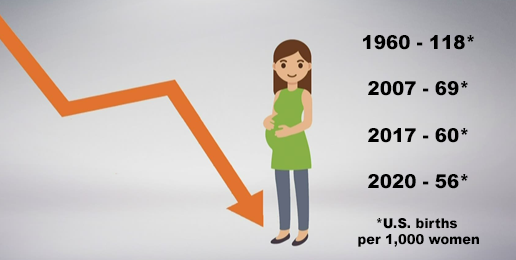 The Decline of U.S. Birth Rates Raises a Question
The American birth rate has fallen for the sixth consecutive year in a row, with the lowest number of babies born since 1979.
This raises an interesting question. Which do people regret more, having or not having children? There is a large divide between, for example, feminists who see children as a prison sentence, and environmentalists who see childbearing as harming the planet, and parents, who wish they would or could have had even more children. These two views often bring about commentary on whether people should have fewer or more children, but such opinion often overlooks which choice people actually regret more.
While not designed to specifically look at this question, in March, a "U.S. Adult Sexual Behaviors and Attitudes Study," of 1,518 US adults gave a glimpse at this question.
Among the respondents, ranging in age from 18 to 74, sixty-eight percent have at least one child. Another 19 percent have not had children nor want to have children, while the remaining 13 percent do not have children but still hope to. The fact that more than three-fourths of adults already have, or want to have, children, reveals a lot about the human biological desire for offspring.
The survey did not explicitly ask whether people regretted having or not having children. However, it did ask those with children to agree or disagree with the statement, "I wish I had had fewer children." Just 14 percent of people with children agreed with the statement. Yet, it is not known whether they regret ever having children or just wish that they had fewer children. Conversely, when asked if they wished for the opposite if they agree that, "I wish I had or would still like to have more children," 24 percent fall into the category of already having but still wanting more children.
Summarizing the study, to include the views of those without children, 29 percent of U.S. adults either do not want to have children or wish they had fewer. A third (34 percent) have children and are happy with the number they have. The largest group (37 percent) wish they had more, whether they are currently parents or not. In other words, those with no apparent regret or reluctance about having children outnumber the rest by more than 2 to 1.
To add to this, 88 percent of those surveyed agree that "having children is one of the most important things I have done." This suggests the joy far outweighs any negatives in parenting.
(Note:  Many women or married couples do not have a realistic choice to parent due to infertility, divorce, singleness, or other issues.  Nothing stated above should ignore the emotional hurt many have with this issue. The research seems to focus on those who likely can have children and their choices in a culture that does not value family as it once did.)
---
This article was originally published by AFA of Indiana.