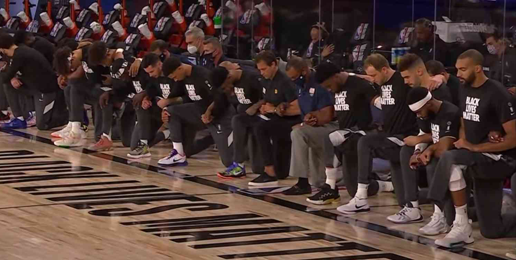 NBA Viewers Flee As The League Turns "Too Political," Poll Finds
Written by Peter Heck
A recent Harris poll has revealed that 39% of self-identified sports fans have chosen to watch fewer NBA games this season, largely because the league has become overly politicized.
Following the pandemic-induced sports-drought, many expected a ratings surge for the return of basketball. Instead, even heading into the playoffs, viewership for the NBA has tanked.
Of those who acknowledged watching less of the NBA:
38% of respondents said it was because "the league has become too political"
28% of respondents said it was because the games are "boring without fans"
19% of respondents said it was because of the NBA's relationship with China
The ratings drop caught the attention of President Trump.
People are tired of watching the highly political @NBA. Basketball ratings are WAY down, and they won't be coming back. I hope football and baseball are watching and learning because the same thing will be happening to them. Stand tall for our Country and our Flag!!!

— Donald J. Trump (@realDonaldTrump) September 1, 2020
The Harris poll also revealed a far more notable partisan distinction in NBA viewers than other leagues.
"Harris also found the NBA is more partisan than any other sport. Only 34% of Republicans say they 'actively follow' the NBA, compared with 48% of Democrats. The gap of 14 percentage points is the largest of any sport. For comparison, 54% of Democrats actively follow the NFL versus 51% of Republicans," Forbes wrote.
The NFL kicks off its 2020 season next Thursday.
---
This article was originally published at Disrn.com.