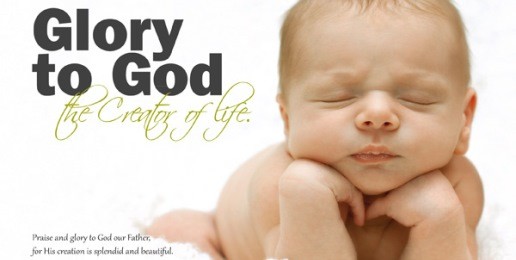 Extinguish This Bloody Traffic
Written by Mike Riccardi
"Never, never will we desist till we . . . extinguish every trace of this bloody traffic, of which our posterity, looking back to the history of these enlightened times, will scarce believe that it has been suffered to exist so long a disgrace and dishonor to this country."
These words were spoken by William Wilberforce, the British politician who worked tirelessly to end the slave trade in the late eighteenth and early nineteenth centuries. Though Wilberforce penned those words in reference to the centuries-old and universally-condemned practice of slavery, they very well could have been written today in reference to our own national "disgrace and dishonor." I am speaking, of course, of abortion. The constitutionally protected right to murder one's own unborn child is the preeminent social injustice of our day. Should the Lord Jesus choose to patiently prolong His coming, the history books will surely regard such a moral atrocity with the same shame and outrage that we experience as we read about the African slave trade or Hitler's Holocaust, bewildered that such miscarriages of justice could have been allowed to persist in a civilized and educated society for so long. 
Forty-One Years Too Long
And yet it was on January 22, 1973 that the Supreme Court ruled in the case of Roe v. Wade that a child in the womb is not to be considered a human person. Since that time, over 50 million babies have died in America under the sanction of the law. Statistics tell us that one in three American women will have had an abortion by the age of 45. This illustrates that the right to take the life of a preborn child has been woven into the fabric of our cultural consciousness for an entire generation. It is now time for a new generation committed to the sanctity of life to stand against this injustice. As followers of Jesus Christ, we should be leading the way in defending the defenseless (cf. Prov 31:8) and in honoring the image of God in all people (Gen 1:27; cf.9:6).
Now, if you're reading this and you name the name of Christ—if you profess to follow Jesus as the Savior from your sin and the Lord of your life—I pray that you have not been so deluded as to need convincing that abortion is evil, and that supporting it in any fashion is repugnant to the Father, grieves the Holy Spirit and is antithetical to the Gospel of the Lord Jesus Christ. But if I'm not going to spend this post arguing for that, what do I have to say to you?
Well, even we who abhor this wicked practice need to be encouraged and exhorted. See, some things are just so horrible that it becomes difficult for us to think about them for too long. It's the same reason we turn our eyes away from a terrible car accident, or can't dwell for too long on a particular national tragedy like 9/11. Our instinct of self-preservation can tempt us to avoid thinking about such things for the sake of our own emotional comfort or peace of mind. But this is where we need to be strengthened. As grisly as it is, Christians must be strong in the grace that is in Christ Jesus (2 Tim 2:1), and face such a discomforting reality head-on. We need to feel the injustice of abortion and mourn the loss of life long enough that we might be stirred to action.
So What Can We Do?
Our first response to contemplating such an evil should be to pray that God would eradicate it. We must recognize first of all that this battle is not merely one of flesh and blood—of partisan politics or competing ideologies. There is no question that a nation whose feet are so swift to shed innocent blood—sacrificing our own children on the altar of convenience—is under the judgment of God, given over to the deluding influence of Satan. We must come to the realization that our struggle is against spiritual forces of wickedness (Eph 6:12), and, as a result, the weapons of our warfare must not be of the flesh, but must be divinely powerful (2 Cor 10:3–5). God alone is sufficient for such a task, and so it falls to us to pray that He would mercifully change the hearts of a nation who calls evil good and good evil (cf. Isa 5:20).
Secondly, we can support our local pregnancy resource centers. In his book, Answering the Call, Pastor John Ensor writes, "In practice, the best way to bring this winsome invitation to abortion-vulnerable women and couples in our neighborhoods is to partner with local pregnancy help ministries." These pregnancy centers often offer free services and literature, and usually provide ultrasound free of charge. When an abortion-minded woman is presented with ultrasound imaging of the life growing inside of her, it becomes much less likely for her to follow through with ending their pregnancy. Our church comes alongside our local pregnancy center by hosting fundraisers, sending volunteers, and encouraging members to pray for and give to this ministry as they discern the Lord would have them to do.
Finally, we must proclaim the Gospel faithfully in our circle of influence. James tells us that the root of murder lies in the sinful desires that enslave the human heart (4:1–2). Therefore, victory in the pro-life cause will not ultimately come from a change in policy or new legislation. Though we would happily welcome that, the only remedy for the sinful human heart is the Gospel of Christ. If we want to change the thoughts, desires, and behaviors of the unsaved, we must first change their hearts. And the Gospel is the only thing that can do that. At this point, our compassion to protect innocent human life and our compassion to see sinners saved from eternal punishment come together in the church's mission to preach the Gospel to all creation.
Not Theoreticians, but Heralds
In January 1984, President Ronald Reagan designated the third Sunday of every January as Sanctity of Human Life Sunday, to coincide with the anniversary of Roe v. Wade. That's this Sunday. So take some time this weekend to reflect, even if painfully, on the reality of this evil in our society, and mourn the loss of life that has been perpetrated in our midst under the protection of law. And along with praying for God to be merciful, prayerfully consider how you might strategically give of your time and talents in 2014 to bring the Gospel to bear particularly on the issue of abortion. As Ensor and Klusendorf have said,
"The world does not need highly developed pro-life theoreticians. It needs [Gospel heralds], people sensing the call of God on their lives and effectively appealing to the conscience of their generation. And it needs [those who will love their neighbors as themselves], ready to act on their convictions in practical lifesaving ways" (Stand for Life, 4).
May we who love Christ in this generation never desist until we have extinguished every trace of this bloody traffic.
---
 This article was originally published at thecripplegate.com blog.