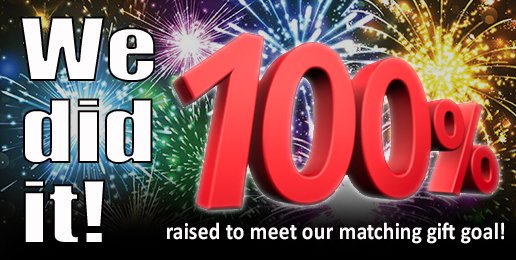 Wonderful News!
Thanks to the remarkable generosity of our supporters, I am happy to report that we have met our matching grant opportunity! The full $80,000 match has been reached and will be added directly to our ongoing pro-life, pro-family work!  Because mail delivery was closed on Sunday and Monday, we were not sure if we would make the match.  Why did we even doubt?  God answered our prayers!
We are truly overwhelmed by the support of fellow Illinoisans that we have received over the last few days. I sincerely thank the good folks from across the state and even from Texas, Florida, Indiana, and California who invested in Illinois Family Institute. THANK YOU!
We also must thank the generous donors who made this end-of-year matching grant possible. And I thank you and your partnership with us that is so critical to defending what is good and true, which in turn will lead to a better Illinois—a place where God is honored, religious freedom flourishes, families thrive and life is cherished.
The IFI Team is already at work in 2018 toward making Illinois better! In fact, we are busy putting together the next edition of our voter guide for the primary election and I've already had a couple of interviews regarding the misguided attempt to legalize "recreational" marijuana.
Thank you too for all your prayers and words of encouragement and for the confidence you place in us. To God be the glory!
David E. Smith, Executive Director
Illinois Family Institute
P.O. Box 876
Tinley Park, IL  60477
Twitter – @ProFamilyIL
Facebook – Pro-Family Illinois
YouTube – ILFamilyInstitute