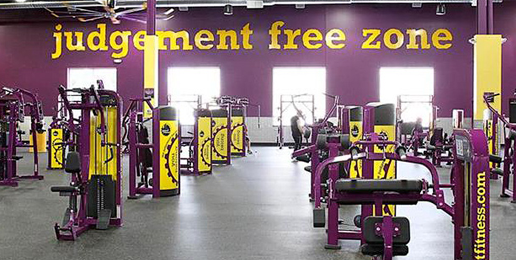 Planet Fitness' Refusal To Protect Women's Privacy Encouraged Man's Indecent Exposure
Posted by 2nd Vote
A New Hampshire Planet Fitness did right by its members this week by having police arrest a man who said the company's "Judgement Free Zone" let him do yoga poses naked. The man is being hit with multiple charges, and will go to trial in September.
A "Judgement Free Zone" shouldn't be controversial at a gym. Working out, building muscle, getting in better shape, losing weight — all judgement-free. Walking around nude outside of the men's locker room? Definitely illegal and shockingly inappropriate.
However, it appears that Planet Fitness gender ideology convinced this one man that he could expose himself to who knows how many women — and that would be just a-okay with gym staff.
Planet Fitness has created a reputation for itself as a haven for men who take advantage of the company's policies which allow men to use women's locker rooms. In 2015, staff cancelled the membership of a woman who reported to local and corporate staff, as well as members, that a man used the female locker room. Her efforts to raise awareness were problematic, according to Planet Fitness:
"The manner in which this member expressed her concerns about the policy exhibited behavior that management at the Midland club deemed inappropriate and disruptive to other members, which is a violation of the membership agreement and as a result her membership was canceled," Gosselin said in a statement on behalf of Planet Fitness.

"Planet Fitness is committed to creating a non-intimidating, welcoming environment for our members. Our gender identity nondiscrimination policy states that members and guests may use all gym facilities based on their sincere self-reported gender identity."
Another woman claims she faced similar treatment earlier this year. The conservative legal group Liberty Counsel is representing a woman whom they say reported a man who was intentionally taking up space and time in a female locker room. The man was asked to finish whatever he was doing — according to Liberty Counsel's complaint, their client says the man pretended to apply makeup "for at least an hour," intentionally preventing their client — a prior rape victim who asked him to leave the locker room — from changing, using bathroom facilities, etc. in peace and safety. He then reported her to police for alleged harassment, and Planet Fitness cancelled her membership.
Liberty Counsel's complaint cites several Florida laws, Planet Fitness' own policies, and basic human decency. However, none of this would be a problem if Planet Fitness' policies reflected biological reality instead of its own Starbucks-like decision to put left-wing ideology over running a business.
Leftists frequently say it's important to avoid "triggering" people — unless it's women in restrooms and locker rooms who want to feel safe. Little girls and sexually abused women apparently don't count. Well, here at 2ndVote, they do. And we suspect they do for our readers and members. Be sure to let Planet Fitness know where you stand by going elsewhere for your fitness needs.
---
This article originally posted at 2ndVote.com.