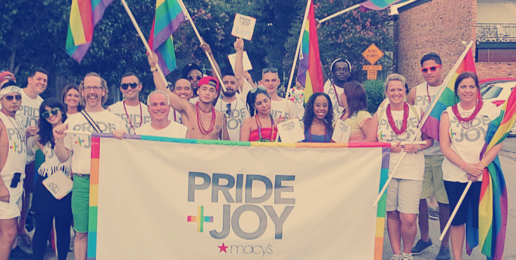 First Santa, Now Drag Queens: Macy's Celebrates Pride Month
Reading Time:
4
minutes
Macy's was once a symbol of wholesome American fun with its Thanksgiving Parades and visits with Santa Claus, immortalized years ago in the classic movie "Miracle on 34th Street." But this month the department store chain is busy promoting the debauchery associated with LGBT Pride and pushing the new all-American tradition of encouraging children to interact with perverted drag queens.
Macy's has been promoting LGBT activism for a while, undeterred by periodic protests from pro-family groups. This is the 10th year for the chain's annual "Pride + Joy" campaign and its June festivities for Pride Month are now on a scale similar to that of patriotic and holiday celebrations. With flags of its own, the LGBT movement has rapidly gained ground in the mainstream, thanks in no small part to the growing number of corporate and civic allies eager to outdo each other in the race to see who can be the most ingratiating toward the queer lobby. Apparently not wanting to be left behind by Target or any other store, Macy's created a full calendar of special events for this month.
On Saturday, June 22, the flagship store in New York City in Herald Square will host a Drag Queen Story Hour. "Bring the whole family for a reading circle and sing along with the queens at this feel-good event!" reads the calendar posting. Macy's in downtown Chicago on State Street will hold a Pride celebration this coming Saturday, June 15, to "celebrate family, friends and community" and offer "treats, performances by drag queens and more!"
Macy's stores in Boston, Los Angeles, Houston, San Francisco, Minnesota, and Columbus, Ohio, are also holding Pride events this month. The chain is participating in Pride parades and festivals across the county and selling Pride-themed merchandise at more than 150 stores and online at macys.com. The New York City location earlier this month had a ribbon cutting ceremony for a new Pride shop within the department store. Macy's boasts that the Manhattan store is "beaming with Pride as it lights up the night in rainbow colors every evening in June."
This past November, LGBT activists celebrated when the annual Macy's Thanksgiving Day Parade featured a same-sex kiss between two actresses participating in the parade. Not everyone saw it as a sign of progress. "Macy's has sexualized and lesbianized Thanksgiving in its iconic kids' parade," wrote conservative writer Rod Dreher.
Other once family-friendly companies are also stepping up efforts to push the LGBT agenda, including Disney, which held its first Pride parade at its theme park in Paris on June 1. In writing about the parade, the LGBT publication Out Magazine called Mickey and Minnie Mouse allies and described them sporting "brand new Pride looks, riding by in a car covered in rainbows." For years, Disney has held unofficial gay events at its theme parks.
As Pride events have grown in size and begun touting themselves as family friendly – making them even more vile – Christians have become more befuddled about how to react. It should be obvious to Christians that they shouldn't join in the festivities, but some need reminders like that found in Michael Brown's recent piece, "Why I Do Not Celebrate Gay Pride."
Even worse, some supposedly conservative Christians publicly endorse attending Pride events. In evangelical Protestant and Catholic circles, there's a growing "gay but celibate" movement that encourages Christians with homosexual attractions to openly and unashamedly identify as gay and which allows for keeping one foot in the gay world so long as one does not act on same-sex desires. Last year, lesbian Catholic writer and Revoice conference speaker Eve Tushnet wrote in Patheos:
I was at the Pride parade this weekend. I have all kinds of issues with contemporary Pride celebrations but here is the thing: I know Christians, believers seeking to live obediently, who feel freed at Pride in a way they never feel in church. In so many of our churches, gay people's shame is treated as a proof of their orthodoxy or personal holiness… I don't feel especially liberated by Pride, but that is because I was never imprisoned in the ways that my friends have been. I'm always aware of the ways in which my faith makes me an outsider there. But my friends, who share my faith in spite of much greater suffering at the hands of Christians, feel liberated at Pride because it is a place where being gay does not separate you from others, but connects you to them. Being in a space where everyone is gay and just rejoicing in our community, flinging beads (I do love the beads), being gay in a million different ways, makes you see that being gay can mean community instead of silence, solidarity instead of judgment, beauty instead of barrenness, welcome instead of suspicion, and joy instead of despair.
Department stores bedecking LGBT depravity with rainbows and glitter and selling it to kids as well as adults deserve to feel the heat of righteous anger. But when Christians get this confused and compromised, they're a lot less likely to send the right message.
---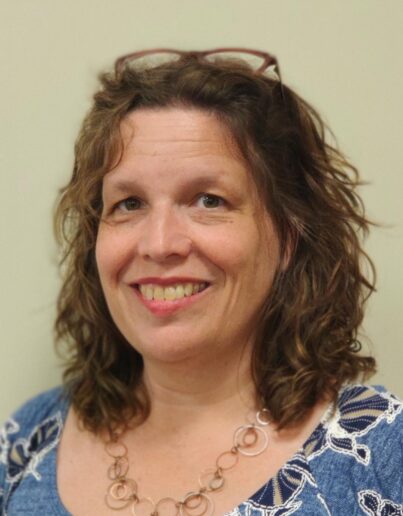 Wendy Wilson is a teacher and writer in Nashville, Tennessee. She grew up in Michigan and graduated from Valparaiso University in Indiana with a bachelor's degree in journalism and Spanish. She earned a master's degree in intercultural studies at Union University in Tennessee. A favorite quote of Wendy's:
"I think modern life, including life in the Church, suffers from a phony unwillingness to offend that poses as prudence and good manners, but too often turns out to be cowardice. Human beings owe each other respect and appropriate courtesy. But we also owe each other the truth — which means candor."
...