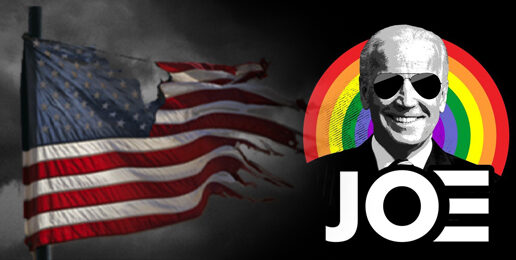 Biden the Unity President Divides Again
Recently, America's foolish president issued a foolish Transgender Day of Visibility Proclamation in which he pledged support for a bill that will jeopardize First Amendment religious free exercise and speech protections for conservative Americans. In his Proclamation, Biden also called for all Americans to adopt his controversial beliefs on cross-sex impersonation. Once again Biden—the self-identifying unity president—has intensified division.
Ordinary Americans—as opposed to those who make millions by selling political influence—fret about how they will pay for groceries and gas. They worry about fentanyl and criminals pouring over the southern border and about illegal immigrants being dumped by the government in their cities in the dark of night.
What keeps Joe Biden awake in the afternoon? Does he worry about the 56,000 synthetic opioid—mostly fentanyl—deaths in 2020? Or about the 900,000 humans killed in the womb annually? Do the 21,000 murders in 2020 cause him sleepless afternoons? Not so much. It appears from his Proclamation that what troubles Biden is what he calls "the epidemic of violence" against cross-dressers. That would be about 50 people killed in 2021, many of whom were victims of domestic violence—not anti-"trans" hate crimes. While every murder is a tragedy, 50 deaths does not an epidemic of violence make.
The name "Transgender Day of Visibility," is intended to convey the fiction that on all other days, cross-sex impersonators are invisible. This, my friends, is what is called "gaslighting." As Chastity "Chaz" Bono, Jaron Bloshinksy ("Jazz Jennings"), Roderick "LaVerne" Cox, Bruce "Caitlyn" Jenner, Richard "Rachel" Levine, Bradley "Chelsea" Manning, Ellen "Elliot" Page, Gavin "Laurel" Hubbard, William "Lia" Thomas, Larry "Lana" Wachowski, Andy "Lilly" Wachowski, and scores of drag queens and teens masquerade as the sex they aren't, invading bathrooms where they don't belong, leftists claim "transgender" persons are invisible.
In his Royal Proclamation last week, Biden declared his enthusiastic support for the ruinous anti-constitutional Equality Act. The Equality Act has nothing to do with equality and everything to do with advancing the alchemical superstition about the alleged ability of humans to become the opposite sex through desire, cross-dressing, hormone-doping, and mutilating cosmetic surgery.
In order to accomplish the end goal of eradicating all public recognition of sex differences, "trans"-cultists must eradicate the ability of free people to speak freely their beliefs about "gender" and sex.
Lawmakers in thrall to or terrified by the "trans"-cult stripped the Equality Act of religious protections. Numerous legal scholars have warned that the passage of the Equality Act poses the most significant threat to constitutional protections of the free exercise of religion ever in America's history.
Mary Hasson, graduate of Notre Dame Law School and fellow at the Ethics and Public Policy Center in Washington, D.C., testified about this threat at a U.S. Senate Judiciary Committee hearing:
The Equality Act threatens serious harm to religious believers and religious organizations. … The Equality Act attacks First Amendment rights as well, inserting language that attempts to tip the scales against believers if they assert claims under the First Amendment or Equal Protection.

The Equality Act … expand[s] "public accommodations" to permit discrimination claims wherever Americans "gather," even virtually. The result? Churches, synagogues, temples, faith-based schools, soup kitchens, and shelters for battered women will be subject to government coercion pressuring them to compromise their religious beliefs or risk endless litigation.

Recipients of federal funds, including houses of worship, religious schools and other faith-based organizations are litigation targets under the Equality Act as well—even for something as simple as maintaining sex-segregated bathrooms. This means a Muslim food bank, Catholic homeless shelter, or Christian center for female survivors of domestic violence will be punished for doing good while following their religious teachings.

Similarly, any private school that enrolls students who receive Pell grants or who participate in school lunch programs are subject to the Equality Act's sex discrimination provisions. Urban Catholic schools, for example, which provide life-changing education to low-income children would face an untenable choice: violate their deeply held religious beliefs about human nature, sexual difference, and marriage or close their doors to students who rely on federal help. Adoption and foster care programs run by religious believers who desire to serve the most vulnerable are also at risk.
Biden said one true thing in his Royal Proclamation. He said that those who identify as "transgender" are "made in the image of God and deserving of dignity, respect, and support." Every human is created in the image of God, but that image is marred by our sinful desires and acts. Humans deserve respect by virtue of being humans—despite the sinful things we desire and do.
One's dignity—the state or quality of being worthy of honor—is undermined by sinful acts like cross-dressing and mutilating one's God-created, healthy body.
"Trans"-identifying persons do deserve support, but life and truth-affirming support should never include participating in a delusion or facilitating artificially induced cessation of natural biological processes and surgical mutilation of healthy, properly functioning parts of sexual anatomy.
When promoting false beliefs about "gender identity," the left talks a lot about "authenticity" without providing their definition—or redefinition—of the term. The American Heritage Dictionary defines "authentic" as "conforming to fact and therefore worthy of trust, reliance, and belief." As such, a man seeking to pass as a woman is the antithesis of authenticity, and celebrating cross-sex-passing robs men and women of dignity.
Leftists have also redefined "identity." Homosexual activists first transformed the concept of "identity," and then seeing how effective a propaganda tool the revised concept of identity was, cross-sex impersonators culturally appropriated it.
Homo-activists sought to recast identity as something intrinsically inviolable, immutable, and good. They sought to refashion identity in such a way as to make it culturally taboo to make judgments about any constituent feature of identity. They re-imagined identity in such a way as to move homoeroticism from the category of phenomena about which humans can legitimately make moral distinctions to one about which society is forbidden to make judgments.
Identity in its former incarnation was merely a way of describing someone. Identity when applied to individual persons denoted the aggregate of phenomena constituting, associated with, experienced and affirmed by individuals. Identity was "the set of behavioral and personal characteristics by which an individual is recognizable as a member of a group."
Identity was not conceived as some intrinsically moral thing, because identity could refer to either objective, non-behavioral, morally neutral conditions (e.g., height or skin color) or to subjective feelings, beliefs, and volitional acts that could be good or bad, right or wrong. Prior to the new and subversive conceptualization of identity, there existed no absolute cultural prohibition of judging the diverse elements that constitute identity.
By conflating all the phenomena that can constitute identity, "progressives" demanded that society should no more make judgments about feelings and volitional acts than they should about skin color.
In short, this is what "progressives" think about identity (except when it comes to those whose identity is found in Christ):
All phenomena that make up identity are off-limits to moral judgment.
Cross-sex impersonation is part of identity.
Therefore, cross-sex impersonation is immune from moral judgment.
But if all conditions constituted by powerful, persistent, unchosen desires and the behaviors impelled by such feelings are part of this new and culturally destructive understanding of identity and, therefore, immune from moral judgment, then zoophilila/bestiality, "minor-attraction," "Genetic Sexual Attraction," and polyamory/promiscuity are immune from moral judgment.
Biden announced that "We celebrate the activism and determination that have fueled the fight for transgender equality." Presumably, he is using the royal "we" since not all Americans celebrate "trans" activism, which is destroying all respect for and public recognition of sex differences. No more biologically based clubs for boys and girls, no more single sex bathrooms, no more girls' sports.
Equality means to treat like things alike. As such, "trans"-cultists and their collaborators like Biden are promoting anti-equality. They are demanding that unlike things—that is men and women—be treated as if they're alike in every context, including contexts in which sex differences matter.
When Biden refers to the "discrimination that the transgender community continues to face across our Nation and around the world," he is using the word "discrimination" to describe moral beliefs about cross-dressing and mutilating cosmetic procedures with which he disagrees. If moral disapproval of ideas or volitional acts constitutes discrimination, then Biden's disapproval of the beliefs of Christians on "gender" and sex as well as the acts impelled by those beliefs constitutes discrimination.
Applying consistently leftist redefinitions of authenticity, identity, and discrimination would mean that no one could express disapproval of any beliefs, desires, or volitional acts. These redefinitions pave the broad way to moral anarchy.
Take ACTION:  Click HERE to send a message to our U.S. Senators Dick Durbin and Tammy Duckworth to urge them to oppose the federal Equality Act (H.R. 5) which seeks to amend the Civil Rights Act of 1964 to include protections for an individual's perceived sex, "sexual orientation," or "gender identity."
Listen to this article read by Laurie:
---