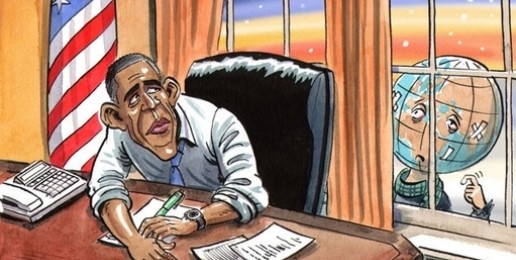 The Collapsing Obama Doctrine
Reading Time:
2
minutes
Everyone else is excerpting it so I shouldn't miss out. The title above belongs to an article in the Wall Street Journal written by former Vice President Dick Cheney and his daughter Liz Cheney. Here is their subtitle: "Rarely has a U.S. president been so wrong about so much at the expense of so many."
It's protocol, and an act of class, for a president to keep quiet about the actions of his immediate successor. George W. Bush has been admirably silent, even as his eight years in office is trashed regularly by Obama. Bush's VP, though, hasn't felt the need to hold his tongue.
For many of us who have been fans of the senior Cheney since the 1980s — his honestly about the pathetic nature of the Obama Administration has been a source or consolation in an era when political guts seem in short supply.
While I recommend (for the sheer fun of it) that you take a few minutes to read the entire article (it's not behind the WSJ paywall), here are a few excerpts for your reading pleasure. Here is how Dick and Liz open their piece:
As the terrorists of the Islamic State of Iraq and Syria (ISIS) threaten Baghdad, thousands of slaughtered Iraqis in their wake, it is worth recalling a few of President Obama's past statements about ISIS and al Qaeda. "If a J.V. team puts on Lakers' uniforms that doesn't make them Kobe Bryant" (January 2014). "[C]ore al Qaeda is on its heels, has been decimated" (August 2013). "So, let there be no doubt: The tide of war is receding" (September 2011).

Rarely has a U.S. president been so wrong about so much at the expense of so many. Too many times to count, Mr. Obama has told us he is "ending" the wars in Iraq and Afghanistan—as though wishing made it so. His rhetoric has now come crashing into reality. Watching the black-clad ISIS jihadists take territory once secured by American blood is final proof, if any were needed, that America's enemies are not "decimated." They are emboldened and on the march.

…

On a trip to the Middle East this spring, we heard a constant refrain in capitals from the Persian Gulf to Israel, "Can you please explain what your president is doing?" "Why is he walking away?" "Why is he so blithely sacrificing the hard fought gains you secured in Iraq?" "Why is he abandoning your friends?" "Why is he doing deals with your enemies?"

In one Arab capital, a senior official pulled out a map of Syria and Iraq. Drawing an arc with his finger from Raqqa province in northern Syria to Anbar province in western Iraq, he said, "They will control this territory. Al Qaeda is building safe havens and training camps here. Don't the Americans care?"
Here is how they close it:
American freedom will not be secured by empty threats, meaningless red lines, leading from behind, appeasing our enemies, abandoning our allies, or apologizing for our great nation—all hallmarks to date of the Obama doctrine. Our security, and the security of our friends around the world, can only be guaranteed with a fundamental reversal of the policies of the past six years.

In 1983, President Ronald Reagan said, "If history teaches anything, it teaches that simple-minded appeasement or wishful thinking about our adversaries is folly. It means the betrayal of our past, the squandering of our freedom." President Obama is on track to securing his legacy as the man who betrayed our past and squandered our freedom.
Read more: Wall Street Journal