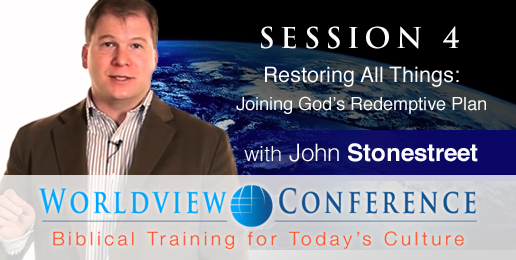 Stonestreet: Restoring All Things: Joining God's Redemptive Plan
In the preceding lectures from the 2019 IFI Worldview Conference, John Stonestreet addressed what culture really is, along with its role in God's creation and what we as Christians have to do with it. In this final session, "Restoring All Things: Joining God's Redemptive Plan," he tells us how we can truly change culture, with the reminder that if you don't go about doing so in an intentional way, you won't do it; or worse, the culture will change you.
With questions under the categories of "how is culture shaping you" and "how are you shaping culture," Stonestreet shows us how to reflect on the workings of our own lives as well as begin to work in our own local communities, all under the greater picture of the redemption that our Lord Jesus Christ has bought for us.
You can watch this presentation on the IFI YouTube channel, and find the other worldview sessions here.
Background
John Stonestreet serves as president of the Colson Center for Christian Worldview. He's a sought-after author and speaker on areas of faith and culture, theology, worldview, education and apologetics. John is the daily voice of BreakPoint, the nationally syndicated commentary on  the culture founded by the late Chuck Colson.
Before coming to the Colson Center in 2010, John served in various leadership capacities with Summit Ministries and was on the biblical studies faculty at Bryan College (TN). John has co-authored four books: A Practical Guide to Culture, Restoring All Things, Same-Sex Marriage, and Making Sense of Your World: A Biblical Worldview. John holds degrees from Trinity Evangelical Divinity School (IL) and Bryan College (TN). He and his wife, Sarah, have four children and live in Colorado Springs, CO.
You can follow him on Twitter @jbstonestreet.
---
A bold voice for pro-family values in Illinois!
Click HERE to learn about supporting IFI on a monthly basis.