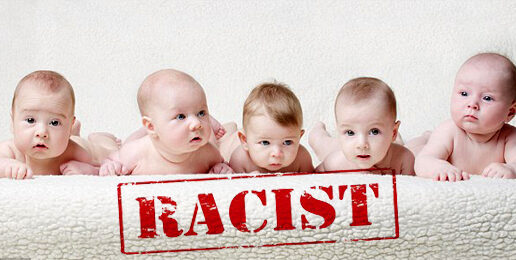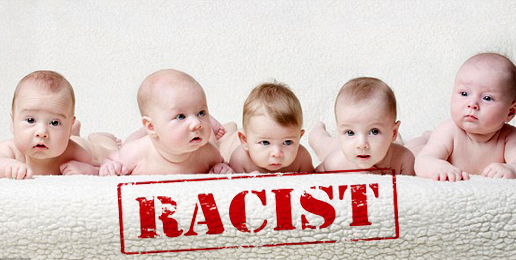 Hey You with the Spooky White Skin, You're a Racist!
In June 2020, Kennedy Mitchum, a 22-year-old graduate of Drake University, needed a way to call non-racists "racists," so she emailed Merriam-Webster Dictionary to tell them to change the definition of "racism" in such a way as to enable people to use the Merriam-Webster Dictionary to call non-racists "racists."
Heretofore, Merriam-Webster had defined "racism" as "a belief that race is the primary determinant of human traits and capacities and that racial differences produce an inherent superiority of a particular race." Mitchum griped that because of that definition, whites who don't believe in racial superiority, who harbor no ill-will toward people with a different skin-color, and who don't mistreat people with a skin color different from their own would deny they were racists. And she needed a way to prove that non-racist whites are, indeed, racists.
In a radio interview, Mitchum said, "It's not just disliking someone because of the color of their skin. There are systems in place in health care, in the justice system that are automatically formed to put people of color at the bottom and keep them at the bottom of the barrel." While providing no evidence, Mitchum asserts that the very reason health care systems and the justice system were formed was to put and keep people of color at the bottom of the barrel.
In her dialogue with Merriam-Webster, Mitchum argues that "Racism is not only prejudice against a certain race due to the color of a person's skin, as it states in your dictionary. It is both prejudice combined with social and institutional power. It is a system of advantage based on skin color."
This article of faith is necessary to exempt racists of color from their culpability in propagating actual racism. If racism requires power, and persons of color supposedly have none, then no matter how explicit and ugly their racism is, it's not—by this Newspeakian redefinition— racism.
This convoluted view of racism is a central tenet of Critical Race Theory (CRT).
Mitchum also said, "the current definition also fails to acknowledge microaggressions." Once again, leftists manipulate language in order to advance an ideology.
By hook or by dictionary, persons of color will prove that colorless non-racists are racist. And if you deny that, you're racist. Got it you achromatic, washed-out bigots?
Why didn't Mitchum go for broke? Why didn't she ask for this new dictionary entry:
"racist": n. 1. Having little melanin; being "white." 2. Being pale-skinned and, by that fact, personally responsible for 400 years of evil.
Critical Race Theory has spread from the academy–where surely Mitchum ingested the poison–into even historically theologically orthodox churches. Tim Keller—well-known and influential author, founder of The Gospel Coalition, and pastor of the Manhattan megachurch, Redeemer Christian Church—has embraced elements of the ugly racist philosophy of collective guilt. On June 3, 2016, Keller said this:
[M]y pastor friend said "studies have … pretty much proven that if you have white skin it's worth a million dollars over a lifetime, over somebody who doesn't have white skin.

And that's because of historical forces that have come about. … if you have that asset of white skin, right now … then you actually have to say "I didn't deserve this" and also to some degree, "I'm the product of…I'm standing on the shoulders of other people who got that through injustice."

So, the Bible actually says "yes…you are involved in injustice," and even if you didn't actually do it, therefore you have a responsibility—not just to say "well, maybe if I get around to it, maybe we can do something about the poor people out there." No- you're part of the problem.
Keller's strange interpretation of Scripture goes back further still. He expressed the same ideas in a troubling presentation delivered at a Desiring God event in 2012.  In his sermon "Racism and Corporate Evil: A White Guy's Perspective," Keller misused Joshua 7, Daniel 9, and Romans 5, overlooking the distinction between the Old Testament and New Testament covenants as well as the distinction between personal sin and the doctrine of original sin.
Jonathan Bradford summarizes and refutes Keller's CRT-infused views:
Keller argues that when a person is part of a community or 'system', they are in part responsible for the actions of that system or community. The only exception to this doctrine seems to be if one is 'resisting' the sinful system. If someone is 'resisting' then they are not responsible for the sin.

If this doctrine is true, then Christians must always and constantly be resisting the system if they desire to stop being imputed with the sins of their community (because every community always has sin).
Keller didn't explain how the following verses comport with his woke interpretation of Scripture:
 "Yet you say, 'Why should not the son suffer for the iniquity of the father?' When the son has done what is just and right, and has been careful to observe all my statutes, he shall surely live.  The soul who sins shall die. The son shall not suffer for the iniquity of the father, nor the father suffer for the iniquity of the son. The righteousness of the righteous shall be upon himself, and the wickedness of the wicked shall be upon himself. (Ezekiel 18:19-20)

 But he did not put to death the children of the murderers, according to what is written in the Book of the Law of Moses, where the Lord commanded, "Fathers shall not be put to death because of their children, nor shall children be put to death because of their fathers. But each one shall die for his own sin." (2 Kings 14:6)
What a tragedy that Keller should embrace any part of the anti-biblical ideology of corporate sin and guilt—an ideology rejected by Holocaust survivor Viktor Frankl who said this in 1985:
[M]y deepest conviction is … that there is no collective guilt! Let alone—if I may so call it—a retroactive collective guilt, in which someone is held responsible for what their parents' or even grandparents' generation may once have done.

Guilt can only be personal guilt—guilt for what one has done oneself or even not done, neglected to do. 
In a recently published article titled "A Biblical Critique of Secular Justice and Critical Theory," Keller makes a statement that seems to contradict his embrace of collective guilt:
To see whole races as more sinful and evil than other races leads to things like the Holocaust.
Keller's earlier statements about whites being "involved in injustice" based on nothing more than their skin color seems to contradict this statement. Keller may be trying to distinguish between a Nazi belief in genetic superiority and his own belief in white culpability for injustice based on membership in a racial group in possession of social advantages due to past racism. If so, his distinction is muddled and unbiblical and, therefore, unhelpful.
In this article, Keller offers a far superior perspective on postmodern Critical Theory (CT), of which Critical Race Theory is a part, by examining some of its contradictions, most notably the idea of the social construction of "truth-claims":
If all truth-claims and justice-agendas are socially constructed to maintain power, then why aren't the claims and agendas of the adherents of this view subject to the same critique? Why are the postmodern justice advocates' claims that "This is oppression" unquestionably, morally right, while all other moral claims are mere social constructs? And if everyone is blinded by class-consciousness and social location, why aren't they? Intersectionality claims oppressed people see things clearly—but why would they if social forces make us wholly what we are and control how we understand reality? Are they less formed by social forces than others? And if all people with power—who "call the shots" socially, culturally, economically, and control public discourse—inevitably use it for domination, then if any revolutionaries were able to replace the oppressors at the top of the society, why would they not become people that should subsequently be rebelled against and replaced themselves? What would make them different? The Postmodern account of justice has no good answers for these questions. You cannot insist that all morality is culturally constructed and relative and then claim that your moral claims are not. This is not a flaw that only Christians can see, and this may therefore be a fatal flaw for the entire theory.
In contrast to CRT's and Kennedy Mitchum's redefinition of racism, here's pastor and theologian John Piper's view of racism:
Here's my definition of racism: attributing to one race intrinsic superiority or valuing it above another and then treating others as undesirable or evil. … It is a history-long problem and a global problem, not just a little black and white problem or a little Asian problem or a little Rwanda problem or a little Jewish problem. It is a massive, global, history-long, devastating, bloody, murderous problem. For example, the Armenian Genocide in Turkey in 1915—a million slaughtered Armenians. Holocaust in Germany: six million. Who knows how many tens of million in the Soviet Gulags under Stalin? The massacres in Rwanda in 1994, the Japanese slaughter of six million Chinese, Indonesians, Koreans, Filipinos and Indo Chinese—a litany of history-long bloodletting all in the name of ethnicity or race. That is because humans are in rebellion against God.

That's where that comes from—exalting ourselves over against our Maker and, of course, if over against our Maker, over against each other. That's a given. Anybody that would have the audacity not to submit to the King of kings and Lord of lords would not have any problem putting you down. We find our pleasure and self-exaltation being made much of and if I have to use my ethnicity to do that, thank you very much, I will do it. That sin of racism … grows in the ground of pride and self-exaltation.
Those who do not use race or ethnicity as a source of pride or self-exaltation, those who do not attribute intrinsic superiority to one race above another, those who do not treat others as undesirable or evil based on their race or skin color are not racist. And the sins and concomitant guilt of their forefathers and foremothers should not be imputed to them—at least God doesn't.
Listen to this article read by Laurie:
---
HELP! Our get-out-the-vote campaign is up and running. We are distributing the IFI Voter Guide to hundreds of churches, civic groups and tea party organizations. We need your  financial support to help us reach Illinois voters and promote Christian family values. Please donate today!