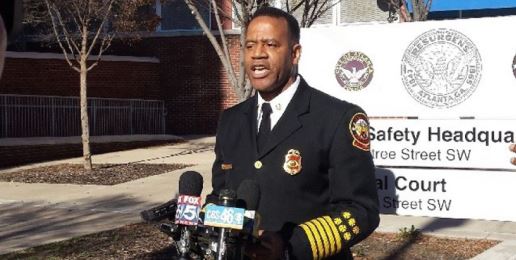 Christian Expresses Biblical Worldview, Gets Sacked By Mayor
A fresh campaign has been launched on behalf of an official with the Atlanta fire department – a Christian – who was fired after making public his biblically based views on homosexuality.
Kelvin Cochran, chief of the Atlanta Fire Rescue Department, was suspended in November after he wrote a short book, a portion of which conveys the biblical view of homosexuality. He gave copies of the book, Who Told You That You Were Naked? (self-published in November 2013), to a few co-workers he knew to be strong Christians – but three city employees also received a copy without asking for one.
Mayor Kasim Reed now has fired Cochran after suspending him for a month without pay, saying "his actions and decision-making undermine his ability to effectively manage a large, diverse work force." Cochran, a firefighter for more than three decades, otherwise had no blemish on his record.
Gary Cass of DefendChristians.org responds to news of Cochran's firing and Mayor Reed's remarks.
"It appears that simply upholding a traditional Christian view of morality automatically makes you unfit for any kind of leadership in this morally upside down world of political correctness," Cass tells OneNewsNow. "It seems that Chief Cochran is being fired not for his actions, but simply for holding a biblical worldview."
The mayor has stated publicly that Cochran's "personal religious beliefs are not the issue," but that the city's nondiscrimination policy is "nonnegotiable."
Cochran is a strong Southern Baptist – and Cass points out that Mayor Reed is a member of Cascade United Methodist Church in Atlanta.
"So here's somebody [Reed] who ostensibly identifies as a Christian, who thinks he can be fair in the way that he conducts his business but apparently [thinks] Chief Cochran can't be fair," Cass surmises. "So it's an interesting confluence of hypocrisy and double standards all at the same time."
He asks on his website: "Does Mayor Reed believe what the Bible says about the sin of homosexuality? If so, shouldn't he resign, too?"
At the end of the day, adds Cass, the action taken against Cochran is "an overt violation of Chief Cochran's First Amendment liberties." Cass is hopeful Christians will continue to contact Reed's office on Cochran's behalf.
Following Cochran's suspension, the Georgia Baptist Convention initiated an online petition calling for the chief's reinstatement. Another petition is available at ExtinguishIntolerance.com.
Take ACTION:  The American Family Association has launched a "Stand with Chief Kelvin Cochran" campaign that allows individuals to (1) sign a statement of support that will be delivered to Chief Cochran, and (2) contact Atlanta Mayor Kasim Reed via email or telephone.
---
This article was originally posted at the OneNewsNow.com website.