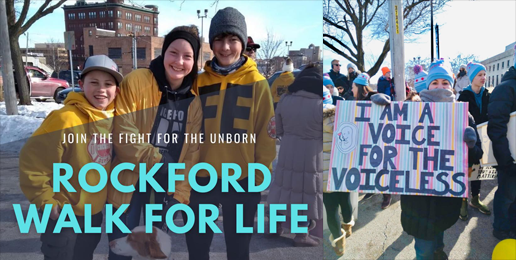 Walk for Life in Rockford
December 9, 2021 @ 8:00 AM
-
5:00 PM
The Rockford Family Initiative is proud to announce our second annual Walk for Life on Saturday, January 15th at 11am at the Rockford Federal Courthouse – 327 S. Church Street. Last year our first walk drew over 1,000 participants! We pray God will bless our efforts and that we will leave a lasting pro-life mark on our community.
You can find more information our website here: proliferockford.com
We will begin with a rally and then walk several blocks past the State of Illinois building, and back to the Federal Courthouse to conclude in prayer. The event will end at 1PM.
Since January 1973, over 62 million unborn babies have been killed through legal abortion. Join us in this peaceful and prayerful walk to end the slaughter of our innocent brothers and sisters in the womb.
Saturday, January 15th
11AM to 1PM
Rockford Federal Courthouse:
327 S. Church Street, Rockford, 61101