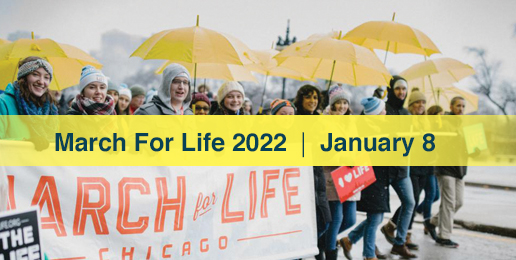 March For Life 2022!
January 8, 2022 @ 8:00 AM
-
8:30 PM
Join pro-lifers from across the Midwest as we take to the streets in downtown Chicago!  There's a convention, rally and march, and a banquet.
WHEN: Saturday, January 8, 2022
TIME: 8:00 AM – Click HERE for the day's schedule and to register
WHERE: Convention & Banquet
                   Hilton
                   720 S. Michigan Ave.
                   Chicago, IL
                   Rally & March (1 PM – 3 PM)
                   Federal Plaza
                   50 W Adams
                   Chicago, IL
Create your own Pro-Life Bridge event. Click on the sign below to access the toolkit.
During a pro-life bridge event, pro-lifers can reach tens of thousands of people on the highway by displaying a professionally printed sign on an overpass.  Pro-lifers across the nation reach millions each year during the National Pro-life Bridge Day.  You can reach your community too!  Purchase your own kit and learn more HERE.