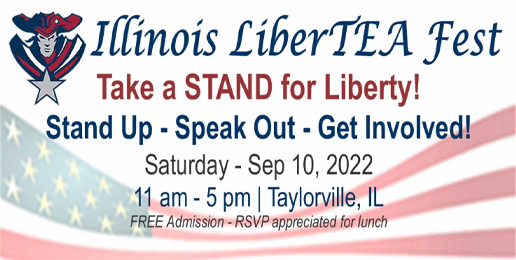 Illinois LiberTEA Fest 2022
September 10, 2022 @ 11:00 AM
-
5:00 PM
Join us for a full day of Patriotic

 FUN!

A State-Wide event bringing all Liberty minded groups and individuals together for…

Great Music, Fellowship, Motivational Speakers, Kid's Activities and more…

Bring the whole family for a fun filled day of Liberty Loving Fun!

Location: 

1008 W Hewitt St, Taylorville, IL

Lunch Served at noon – please RSVP

Bring your lawn chairs and keep all signs family friendly.

Facebook: https://www.facebook.com/events/556471249457937/

Contact:

Phone: 217-492-1163
Email: ralyn@illinoislibertea.com

*A Non-partisan, non-profit concerned citizen's event – All are welcome.