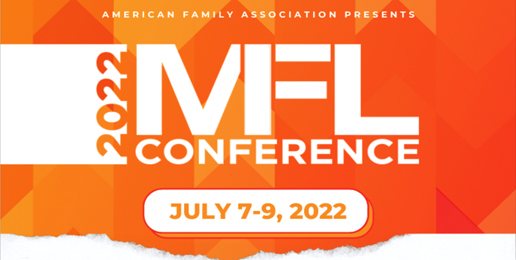 Don't Miss AFA's 2022 Marriage, Family, Life Conference!
July 7, 2022
-
July 9, 2022
Is there ever a time when truth is unimportant or irrelevant? Certainly not! As faithful followers of Jesus Christ, Who is truth, we cannot negotiate truth with a hostile culture. But we must also respond to the great needs of our time. The good news is there is a way to do both.
That's why American Family Association is hosting the 2022 Marriage, Family, Life Conference. The purpose of MFL22 is to equip believers to defend biblical truth and to minister to culture-wearied adults and children (ages 4-17). "Here I Stand" is this year's conference theme. We are encouraging the Body of Christ to stand firmly on the truth of God's Word. No matter the changes that culture puts forth, God's Word is unchanging, and we can find hope in that.
WHEN: Thursday, July 7, 2022 – Saturday, July 9, 2022
WHERE: Bancorpsouth Arena
                   375 Main St.
                   Tupelo, MS 38804
TIME: Thursday, 6 PM – Saturday 9 PM
MFL22 is a 2 1/2 day conference packed with information and encouragement on topics such as:
8 Great Smarts: Discovering and Using Your Child's Intelligences
Standing Strong on God's Design for Marriage
One Blood, One Race
Technology's Influence Over Children's Beliefs and Behaviors
One of the best features of MFL22 is the Youth Apologetics Track for kids ages 4-17. While adults are engaged in information-packed sessions, kids and youth will participate in their own age-appropriate sessions. We believe Christian kids and youth must be equipped in apologetics and have a working understanding of their faith. To that end, we present young attendees with biblically sound sessions that help them feel confident defending their faith. Today's culture throws a lot at Christian kids, and we want to equip them to stand strong.
When it comes to the American Family Association's hosting of the Marriage, Family, Life Conference, remember family is our middle name. We invite parents to bring their kids with them! Strategic fellowship times are worked into the schedule for parents to discuss sessions with their children.
Register today for MFL 2022 as we encourage one another to stand firm on the truth of God's Word!