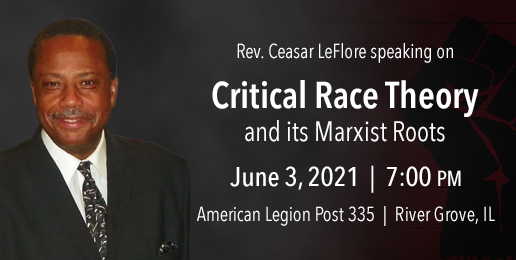 Critical Race Theory and Its Marxist Roots
June 3, 2021 @ 7:00 PM
-
8:30 PM
Critical Race Theory is repackaged Marxism. It divides society up into groups: the "oppressors" and the "oppressed."
What people actually say or do doesn't matter. Rather, it's the amount of melanin in their skin.
According to CRT, all whites—including those who have never thought, said, or done anything racist or oppressive, are deemed racist oppressors based ONLY on their skin color.
Proponents of CRT claim that the ruling oppressive group (whites) keep minorities oppressed through law, language, politics, and education.
Essentially, they claim that "white supremacy" lies at the root of our society's ill.
Rev. Ceasar LeFlore will address this complex problem and answer your questions.
 This is a FREE event.
 WHERE: American Legion Post 335
                    8664 W Grand Ave
                    River Grove, IL
WHEN: June 3, 2021
TIME: 7:00 PM