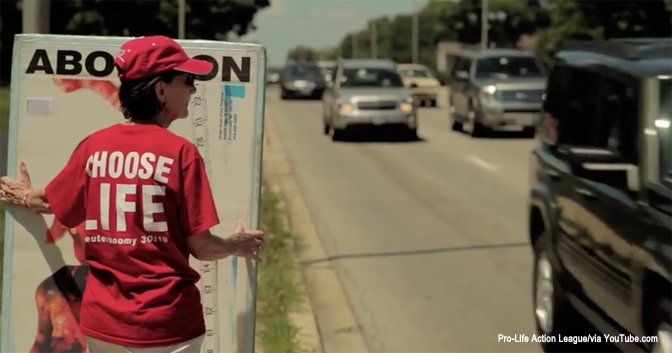 Chicago Area "Face the Truth" Tour
July 7, 2017 @ 8:00 AM
-
July 15, 2017 @ 5:00 PM
This summer the Pro-Life Action League will sponsor the 2017 Chicago Area Face the Truth Tour from Friday, July 7th through Saturday, July 15th. Participants will visit sites throughout the Chicago area, holding pictures of beautiful unborn babies and huge signs depicting the victims of abortion.
Join us as we show our fellow citizens that abortion takes the life of an unborn child!
For more information, visit prolifeaction.org.
Friday, July 7: Joliet Area
9:00-10:30 Joliet Jefferson Street and N. Larkin Avenue (map)
11:30-1:00 Shorewood Route 59 and Black Road (map)
3:00-4:30 Joliet Route 59 and Caton Farm Road (map)
Saturday, July 8: Western Suburbs
9:00-10:30 Westmont Cass Avenue and Ogden Avenue (map)
11:30-1:00 Villa Park Roosevelt Road and Summit Avenue (map)
3:00-4:30 Elmhurst Route 83 and St. Charles Road (map)
Monday, July 10: Downtown Chicago
11:30-1:00 Daley Plaza Meet at Washington Street and Clark Street (map)
2:00-3:30 Art Institute Meet at Michigan Avenue and Monroe Street (map)
4:30-6:00 Union Station and Ogilvie Station Meet at Madison Street and Wacker Drive
Tuesday, July 11: Northwest Suburbs
9:00-10:30 Lake Zurich Rand Road (Route 12) and Main Street (map)
11:30-1:00 Palatine Rand Road (Route 12) and Dundee Road (map)
3:00-4:30 Arlington Heights Rand Road (Route 12) and Arlington Heights Road (map)
Wednesday, July 12: Near West Suburbs
9:00-10:30 Forest Park First Avenue and Roosevelt Road (map)
11:30-1:00 Berwyn Harlem Avenue and Ogden Avenue (map)
3:00-4:30 Cicero Cicero Avenue and Cermak Road (map)
Thursday, July 13: Southwest Suburbs
9:00-10:30 Crestwood Cicero Avenue and Cal Sag Road (map)
11:30-1:00 Orland Park 159th Street and La Grange Road (map)
3:00-4:30 Mokena 191st Street and La Grange Road (map)
Friday, July 14: South Side
9:00-10:30 Chicago: South Deering 95th Street and Stony Island Avenue (map)
11:30-1:00 Oak Lawn 95th Street and Cicero Avenue (map)
3:00-4:30 Chicago Ridge 95th Street and Ridgeland Avenue (map)
Saturday, July 15: Western Suburbs
9:00-10:30 Aurora Planned Parenthood Eola Road and New York Street (map)
11:30-1:00 Naperville Washington Street and Ogden Avenue (map)
3:00-4:30 Aurora: Fox Valley Mall Route 59 and Aurora Avenue/New York Street (map)