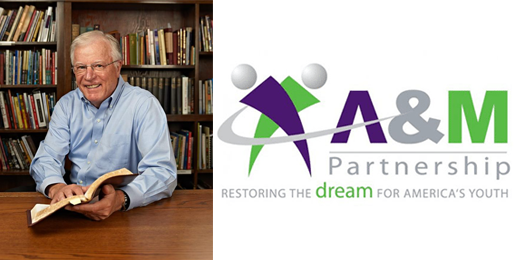 A&M Annual Banquet 2022
September 29 @ 6:00 PM
-
9:00 PM
Please join us for the Abstinence & Marriage Education Partnership (A&M Partnership) Annual Banquet on Thursday, September 29th at the Cotillion in Palatine at Route 53 and Northwest Highway.  A&M reaches teens around the country by equipping parents, pastors, and teachers to ensure that every teenager in the country has the opportunity to hear a clearly reasoned positive presentation on the benefits of abstinence until marriage and instruction on preparing for a healthy future marriage.
There are several ways to participate in this event:
HOST A TABLE: A Table Host simply invites family & friends to attend the banquet. There is no cost to attend or to host a table. Table Hosts will be invited to a private reception with Dr. Erwin W. Lutzer.
SPONSOR A TABLE: A Table Sponsor helps cover the cost of the banquet so that all funds received at the event will go directly to the ministry. A Table Sponsor may also host a table. To sponsor a table please call the office at 224-735-3622.
ATTEND: There is no cost to attend although there will be an opportunity for financial partnership. Please help us spread the word through e-mail, social media, and personal invitation. To attend, please register HERE.

We look forward to seeing you there!
---
Dr. Erwin W. Lutzer
Dr. Erwin W. Lutzer is Pastor Emeritus of The Moody Church where he served as the Senior Pastor for 36 years. He earned a B.Th. from Winnipeg Bible College, a Th.M. from Dallas Theological Seminary, a M.A. in Philosophy from Loyola University, and an honorary LL.D. from the Simon Greenleaf School of Law.
Dr. Lutzer is also an award-winning author of numerous books including: Rescuing the Gospel, He Will Be the Preacher, The Cross in the Shadow of the Crescent, One Minute After You Die, When a Nation Forgets God, and Christian Bookseller's Gold Medallion Award winner, Hitler's Cross.
His speaking engagements include Bible conferences and seminars, both domestically and internationally, including: Russia, the Republic of Belarus, Germany, Scotland, Guatemala, and Japan. He also leads tours to Israel and the cities of the Protestant Reformation in Europe.
Dr. Lutzer and his wife, Rebecca, live in the Chicago area. They have three grown children and eight grandchildren.