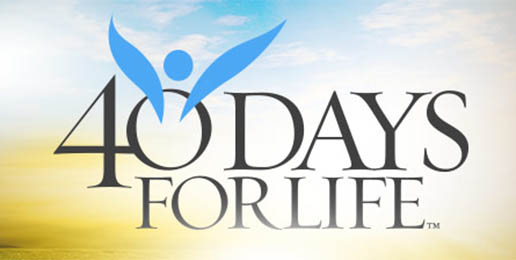 40 Days for Life in 2021
September 22, 2021
-
October 30, 2021
The Fall campaign for 40 Days for Life begins on September 22nd this year, and runs through October 331st. This internationally coordinated prayer campaign aims to bring spiritual focus to abortuaries in 9 locations throughout the state of Illinois.
Prayer, fasting, church outreach, and PEACEFUL PRAYING outside these death clinics are powerful in helping to save lives and—we hope and pray—in ending abortion.
Since 2007 when 40 Days for Life began, 19,198 babies have been saved, 221 abortion clinic workers have quit, and 112 abortion centers have closed! Former abortion workers have publicly stated that there is up to a 75% no-show rate for appointments when there are people peacefully praying outside of an abortion clinic.
Abortions in Illinois have increased since COVID-19 invaded the U.S.  Planned Parenthood has taken advantage of the fear surrounding hospitals and healthcare institutions by encouraging use of the abortion pill. They are dispensing the abortion pills and have an abortion app which makes it easier for girls and women to access chemical abortions. This puts at risk the health of aborting mothers.
Please prayerfully consider joining this year's Fall 2021 vigil which runs from September 22 – October 31. Click HERE to find one near you.
We stand as the body of Christ representing Him through a peacefully witness of the sanctity of life in our community. 
For additional information or to sign up your church for the Aurora 40 Days for Life, please visit 40daysforlife.com.
Babies Lives Matters.