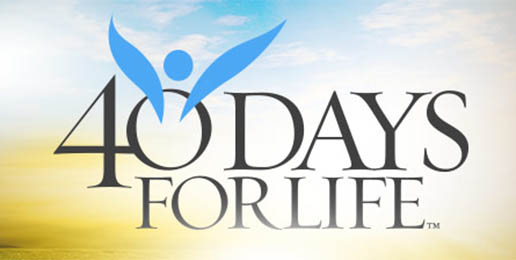 40 Days for Life Fall 2020
September 23 @ 12:00 AM
-
November 1 @ 12:00 PM
|
Free
Join other pro-life prayer warriors in the annual 40 Days For Life campaign to pray and fast to end abortion! This year's Fall vigil begins on September 23rd and ends 40 days later on November 1.
Through peaceful prayer vigils and community outreach, 40 Days for Life has inspired 1,000,000 people to join at locations across the nation.
With God's blessing, here are the results of 25 coordinated campaigns:
16,742 babies saved from abortion
196 abortion workers left their jobs
104 abortion centers closed
Find a vigil location near you HERE, or join one of these Illinois locations:
Aurora Planned Parenthood
3051 E New York St. in Aurora, IL
Parking available st south side of Waterleaf Women's Clinic and Auto Zone.
For more information, contact Catherine (224) 999-3701.
Decatur Planned Parenthood
3021 N. Oakland in decatur, IL
For more information, contact james.comerford@hshs.org
Flossmoor Planned Parenthood
19831 S. Governors Hwy. in Flossmoor, IL
For more information, contact karenforlife@yahoo.com
Granite City Hope Clinic
1602 21st St. in Granite City, IL
For more information, contact info@40daysgc.com
Springfield Planned Parenthood
601 N. Bruns Ln. in Springfield, IL
For more information, contact info@springfieldrtl.org