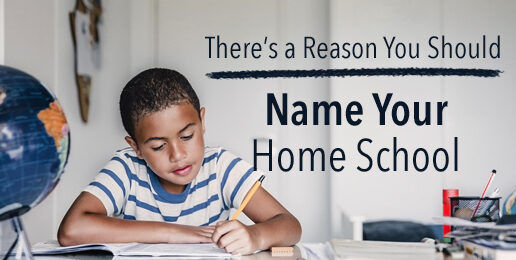 Name Your Home School to Avoid Truancy Problems
Name your home school – Your kids (and others) will be glad you did
For two years, Illinois children were kept home from school for varying amounts of days if they had tested positively with COVID, if they had been in contact with someone that had tested positive, or if their classes had "gone remote" at the administration's discretion.
Now, as the medical emergency dies down, there is a new effort to account for school age children that aren't returning to government school classrooms. School districts are tapping truancy officers to find out why those enrolled students are not back at their desks.
Illinois Family Institute's Executive Director David Smith says he's hearing from families that have decided during the past two years that homeschooling is the educational option they want to pursue.
These families – as well as others that have never been enrolled in the government school system – are being contacted by local truancy officers required by law to report to the regional superintendent and the Secretary of State names of enrolled pupils that are not regularly attending school.
So just how should Illinois homeschooling families respond to truancy officers' visits and requests?
It's a little complicated to find the way through the Illinois School Code, but once the overall perception of "home schools" in Illinois is understood, parents should be emboldened to continue their chosen paths for their families, and not fear visits or queries from truancy officers.
It starts with simply providing homeschooled students with the answer to a question they are likely asked all the time: What school do you go to?
What does the Illinois compulsory school attendance require?
Illinois' compulsory attendance law is found in 105 ILCS 5/26-1, which says essentially that whoever has custody or control of a child between the ages of 6 and 17 shall cause such child to attend some public school in the district wherein the child resides.
But there are some exceptions to 105 ILCS 5/26-1, including "Any child attending a private or a parochial school where children are taught the branches of education taught to children of corresponding age and grade in the public schools, and where the instruction … is in the English language."
So, Illinois requires parents or guardians to send their kids of compulsory age to government schools, unless the pupils are enrolled in private or parochial schools that teach similar courses for appropriate ages – and in English.
How do those requirements for private and parochial schools directly apply to Illinois home schools?
In 1950, that same question was asked of the Illinois Supreme Court.
The Court decided in People vs. Levisen that home schools are to be considered private schools. Thus, pupils enrolled in Illinois home schools – being under the umbrella of "private and parochial schools" are not required to attend public schools.  And home schools – as are non-accredited private and parochial schools – have not been under government school officials' supervision since the Levisen ruling.
How is it best to convey the "private school umbrella" principle to local district officials?  
Local truancy officers are required to provide an amount of information to the Secretary of State and regional superintendents about students considered truant, missing from one to five percent of the state's 180 required school attendance days.
There is no direction given for parents to convey such information to the government school system in the Illinois School Code, and there have been efforts for decades to prevent any such explicit directions being set into state law or the Illinois State Board of Education's rules and regulations on the matter. Neither home school curriculum, attendance records, instructor plans, testing scores nor grading systems are currently required to be examined or approved by local school officials.
The argument has been that government school officials should not have the authority to tell non-government schools – including private home schools – exactly what worldview or methods their chosen curriculum may implement.
However, when a pupil's name has been added either inadvertently or purposely to government school rolls, school officials are by law responsible for knowing why that pupil is no longer regularly attending until that child's name is removed from government school attendance rolls.
How to remove a home-schooled child's name from government school lists
The most efficient way many Illinois parents have removed their pupils' names from government school lists is to notify the local school that their child has been transferred to a private school.
Many parents choose to simply name their home schools and notify school officials that, for example, "[Michael Anderson] will no longer be attending [Lincoln Elementary School], as he has transferred to and is now regularly attending [Maple Avenue Christian Academy], a private school under the auspices of Section 105 of the Illinois School Code 5/26-1."
Any other information about the private or parochial school, its officials, its curriculum, its scheduling, is not required to be submitted to the government school system by current Illinois law.
Ignoring requests for information about where a child is enrolled in school is not recommended by legal experts. The officials have legal recourses they may use if their requests are not answered that may include state's attorneys and the court system.
Cautions from a veteran Illinois homeschooler
Veteran homeschooling dad Harvey Bluedorn summed up Illinois law concerning dealing with truancy queries in this way:
The job of enforcing laws is that of the State's Attorney in the county.  School Districts do not have legal powers. Schools do have regional superintendents and truant officers. They have no power to determine whether a home school is in or out of compliance with the compulsory education law. Only the court can make a conclusive determination.  Only a State's Attorney can initiate a proceeding to get before a judge.  At most, the truant officer can refer a situation to the State's Attorney with a recommendation.  The truant officer can describe the situation to the State's Attorney, who must decide whether legal proceedings are appropriate to enforce the compulsory education statute, and if so, the most appropriate type of proceeding: a criminal action, a truancy petition or a neglect petition against the parents.  Each type of proceeding has different proofs and remedies.
School personnel have no judicial powers. They have no power to compel anyone to produce attendance or evidence. They do have the duty to investigate who is truant and who meets the private school exemption of the compulsory education statute.  That determination is not the same as a legal binding one.  A truant officer cannot compel or threaten or harass.  A truant officer has no power to subpoena records or search a home.  All he can do is say that based on the information he has, the matter is ripe for referral to a State's Attorney. The issue before the truant officer is "How can I comply with my statutory duty of determining whether this child is truly a truant or a privately-schooled student?"
Conclusion
How adamant school officials are in enforcing truancy laws will likely depend upon the environment concerning truants in the community. Other factors may enter, including enticing state funding or the numbers of families that have made educational choices that heavily affect the government system.
But one way to ward off serious concerns is to begin by naming your home school, treating and thinking of your home school as the private school it is in Illinois, getting appropriate student curriculum in order and setting a schedule consisting of at least 180 school days per year – and then responding to local school official queries when and if they arise.
And when you name your home school, you'll help your students to answer that often-posed query, "What school do you go to?"
They'll be glad you did.
(The above information is not to be considered legal advice from Illinois Family Institute and is to be used only for consideration. IFI also recommends joining (for a fee) Home School Legal Defense Association before any legal action ensues.)
---