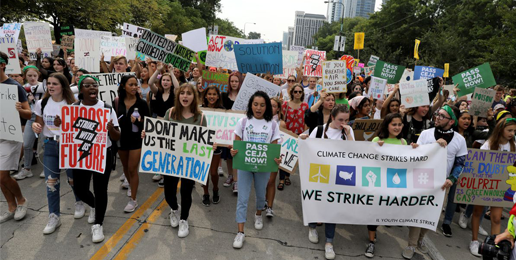 Imagine A Revision of Greta Thunberg's Screed
Buzzfeed has an article about social media attacks on the tweens and teens whom Leftist adults are exploiting as shields by allowing these children to lead the climate change charge.
Since every adult knows what a poisonous and malevolent force social media is, why are these kids' parents allowing them to be exploited by Leftists, thereby becoming social media targets? If Silicon Valley parents and conservative parents can keep their kids from having smart phones, iPads, and social media accounts, can't Greta Thunberg's parents keep her from traveling across the ocean to thunder at adults at the U.N.?
The article quotes a climate scientist from Texas Tech University who claims these kids—who have been unjustifiably terrified by Leftist doomsday prognostications—are being attacked because they're "effective." Nope. These kids are being attacked because they're kids sanctimoniously lecturing adults. Of course, not even presumptuous words from children justify malignant social media attacks, but it's not the kids' effectiveness that grates on adults.
Here's a little thought experiment. Imagine how "progressives" would respond if a weeping conservative teen were to deliver this revision of Greta Thunberg's screed:
My message is that we'll be watching you.

This is all wrong. I shouldn't be up here. I should be back in school on the other side of the ocean. Yet you all come to us young people for hope. How dare you!

You have stolen our dreams and our childhood with your false and destructive words about sexuality. And yet I'm one of the lucky ones. People are suffering. People are dying. The bodies, hearts, and minds of thousands of children in developed countries are being destroyed. We are in the beginning of a mass delusion, and all you can talk about is fairy tales about the existence of 100 genders and if it feels good, do it. How dare you!

For more than 50 years, the hard science has been crystal clear about the reality of biological sex, the health risks of sexual promiscuity, and that the product of conception between two humans is a human being. And social science has been crystal clear about the good effects on children of being raised by their biological parents in an intact family. How dare you continue to look away from both science and morality! You're doing nothing when the politics and solutions needed are still nowhere in sight.

You say you hear us and that you understand the urgency. But no matter how sad and angry I am, I do not want to believe that. Because if you really understood the situation and still kept failing to act, then you would be evil. And that I refuse to believe.

Children are being commodified, with their genetic material bought and sold like meat on a commodities exchange. They are being deliberately denied mothers or fathers. They're growing up in a world awash in sexually transmitted infections and pornography. They're being taught in schools about anal sex and homosexuality. They're being sterilized and mutilated by doctors at the behest of parents. And at the behest of their own mothers, they're being exterminated before they breathe their first breath.

You are failing us. But the young people are starting to understand your betrayal. The eyes of all future generations are upon you. And if you choose to fail us, I say: We will never forgive you.

We will not let you get away with this. Right here, right now is where we draw the line. The world is waking up. And change is coming, whether you like it or not.
I'm sure inclusive, compassionate, equitable "progressives" fully committed to diversity would welcome such a speech with the tolerance to which we conservatives have become accustomed.
Listen to this article read by Laurie:
---
---
IFI depends on the support of concerned-citizens like you. Donate now
-and, please-