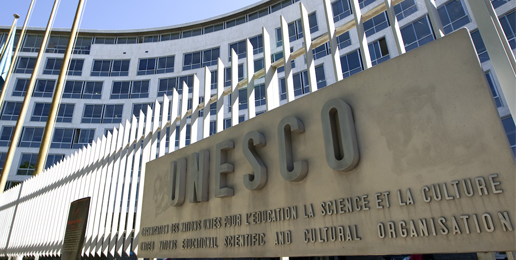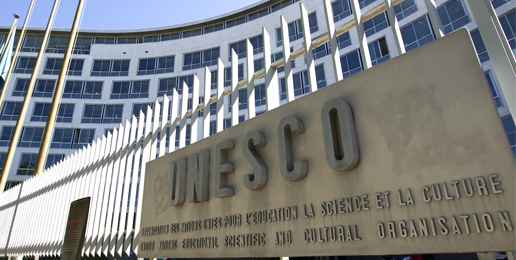 Amid Scandal and CCP Influence, US Considers Rejoining UN Education Arm
After rejoining a number of controversial United Nations agencies and agreements over the last year, the Biden administration and its allies in Congress are quietly trying to figure out how to bypass federal laws to rejoin a UN agency that has been clouded in scandal and allegations of extremism for decades.
Four years ago, the Trump administration and the Israeli government both announced they would be exiting the United Nations Educational, Scientific and Cultural Organization (UNESCO). Accusations of anti-Semitism and widespread corruption were among the many concerns cited.
But now, despite what critics describe as continued extremism and ongoing corruption issues, as well as significant communist Chinese influence over the UN's education agency, there are growing signs that the Biden administration and Israeli authorities are getting ready to overlook all that.
At the Biden administration's request, lawmakers have even quietly introduced legislation that would allow Washington to sidestep U.S. laws prohibiting funds for the controversial UN agency.
The price tag in terms of tax dollars would be enormous. But critics, analysts, and former senior officials warned that even more significant than the financial cost would be legitimizing the agency and even Beijing's influence within it.
"I don't think UNESCO is fixable," explained Kevin Moley, who served as Assistant Secretary of State for International Organization Affairs during the previous administration.
Moley, who also worked as U.S. Ambassador to UN organizations in Geneva during the Bush administration, pointed to overwhelming communist Chinese influence in UNESCO and its long track record of undermining American principles as key reasons for concern.
"In the Trump administration, it was Make America Great Again," Moley told The Epoch Times in a phone interview. "In the Biden administration, it's HAA—Humiliate America Again."
"Re-joining UN institutions that habitually take Israel and America to task for unfounded allegations of human rights abuses while condoning the human rights abuses of UN Human Rights Council members such as Russia, Venezuela, China, and Cuba, is the ultimate manifestation of what the late great Ambassador Jeane Kirkpatrick called the 'blame America first' crowd," the former assistant secretary of state explained. "This crowd has now taken over the U.S. State Department lock, stock, and barrel."
At least one UNESCO insider argued that a thorough investigation of the UN agency and its leaders by U.S. authorities would be a more sensible plan than sending more than half a billion tax dollars to pay "arrears" to an organization that he said was dominated by ideologues and plagued by never-ending scandals.
Even powerful voices within the foreign-policy establishment have warned against a return to the agency without at least securing some major concessions and reforms. So far, though, it does not appear that any significant concessions are even being sought.
The Backstory
In October of 2017, following in the footsteps of Ronald Reagan, the Trump administration gave UNESCO its one-year notification that the U.S. government would be leaving the organization.
Among other concerns, the State Department pointed to the growing amount of taxpayer money supposedly owed to the agency by the United States since the U.S. government stopped paying dues in 2011, as required by statutes passed by Congress and signed by former presidents Bush and Clinton.
The funding was stopped during the Obama administration as a result of federal laws banning U.S. funding for international organizations that accept the "State of Palestine" as a member state prior to a negotiated settlement with Israel.
Current federal law still prohibits U.S. funding for UNESCO. But the Senate Appropriations Committee just introduced legislation that would allow the Biden administration to waive that prohibition if it believes re-joining would promote U.S. interests.
Also behind the U.S. government's decision to withdraw was what authorities said was the UN agency's systemic bias against Israel, as well as what the State Department described as the "need for fundamental reform."
Pointing to murderous dictatorships on the agency's "human rights" committee and other policies, then-UN Ambassador Nikki Haley at the time said the "extreme politicization" of UNESCO had "become a chronic embarrassment."
"Just as we said in 1984 when President Reagan withdrew from UNESCO, U.S. taxpayers should no longer be on the hook to pay for policies that are hostile to our values and make a mockery of justice and common sense," Haley said.
But that was just the tip of the iceberg, insiders and analysts say.
At the time, the UN agency was being led by longtime Communist Party apparatchik Irina Bokova of Bulgaria. Her deep ties to the former Communist regime in Bulgaria, combined with serious allegations of corruption and intrigue during and after her tenure, led to major questions among Western governments about the UN agency's leadership.
Responding to the U.S. withdrawal, Bokova expressed "profound regret," calling it a "loss for multilateralism."
Leading the UN agency alongside Bokova was the Chinese Communist Party (CCP) official Qian Tang, who served as assistant director-general of the agency.
Separately, China's then-Ambassador to Belgium, Qu Xing, was appointed deputy director-general by Bokova's successor, French Socialist Party figure Audrey Azoulay.
Their influence over the UN organization—particularly in the field of education—has been immense.
On the heels of the U.S. notice to UNESCO, Israeli authorities followed suit. Blasting UNESCO as "the theater of the absurd," then-Prime Minister Benjamin Netanyahu praised the Trump administration for its "brave and moral decision."
The Israeli Foreign Ministry announced that government's withdrawal shortly after Washington, and both governments officially exited at the end of 2018.
With the U.S. and Israeli governments gone, UNESCO continued in its ways under the leadership of French Director General Azoulay, a former culture minister whose tenure at the UN has also been marked by allegations of impropriety.
Diplomats have noticed problems.
Last summer, for example, U.K. Ambassador to UNESCO Matthew Lodge sent a scathing letter to top UNESCO officials expressing concern over "confirmed financial fraud." Lodge also highlighted efforts by the agency's leaders to cover up the fraud and avoid informing member states.
Efforts to Rejoin
A number of sources told The Epoch Times that after the Biden administration re-joined several other UN organizations and instruments such as the World Health Organization, the UN Human Rights Council, and the Paris Agreement on climate, it had its eyes on rejoining UNESCO.
A spokesman for the State Department responded to phone calls and e-mails from The Epoch Times with a brief note: "We don't have anything to announce on UNESCO at this time."
However, it appears that there are serious efforts behind the scenes to rejoin and pay arrears, complicated by the federal laws banning U.S. funding for organizations that admit the "State of Palestine."
A statement released by UNESCO said the agency saw "real hope" for a U.S. return, but "the timing and modalities … have yet to be defined."
UNESCO chief Azoulay was also reportedly in Washington lobbying Biden's wife and U.S. lawmakers, according to media reports based on an anonymous diplomatic source.
And officials such as former USAID chief and Clinton-era Undersecretary of State J. Brian Atwood are publicly lobbying for the U.S. government re-join.
"Much has changed under UNESCO's Director General Audrey Azoulay," Atwood argued in an opinion piece for The Hill last month. "It is long past time for Congress to recognize that the national interests of the United States are best served by participation in international organizations like UNESCO."
In Israel, Foreign Minister Yair Lapid asked officials to review the issue. In fact, according to media reports citing Israeli officials, Lapid believes leaving UNESCO and other international organizations made Israeli foreign policy less effective.
But critics have expressed grave concerns over ongoing efforts to rejoin the UN agency.
Speaking to The Epoch Times, former Assistant Secretary of State for International Organization Affairs Moley blasted the Biden administration's State Department and its efforts to re-engage in what he described as out-of-control UN organs such as UNESCO. In fact, he argued that this behavior undermined U.S. interests.
UNESCO is too far gone and cannot be fixed anyway, he added, pointing to large swaths of its policy-making that "have largely been taken over by the CCP and its allies." These concerns have existed for decades.
In addition to being bad for America, Ambassador Moley also argued that re-joining the UN agency would be "another slap in the face to our only democratic ally in the Middle East."
One key problem, he argued, is that the State Department is under the "complete control" of officials whose "first response to virtually anything is to apologize for America instead of standing up for our values, our Constitution, and our people."
The Biden administration is a representation of this, and is "full of the most anti-American, socialist" forces, he added.
Another one of Moley's major concerns is the attitude from Obama and Biden on down regarding the threat from the CCP.
Biden has even joked about it recently. "China is going to eat our lunch? Come on, man," he said in May 2019 on the campaign trail, ridiculing the idea that the CCP poses a serious threat to the United States.
Moley's Obama-era predecessor as Assistant Secretary of State for International Organization Affairs, Bathsheba Crocker, was even quoted in the state-run newspaper China Daily saying she was "particularly pleased" to see China taking more responsibility in the UN.
China's Influence
As The Epoch Times reported in May of 2020, the CCP now dominates large segments of the UN and its specialized agencies, with the CCP-dominated G77 (Group of 77) Plus China alliance holding a super-majority in the General Assembly.
UNESCO is no exception, and in fact, may be worse, critics say.
CCP agent and Deputy Director General Qu, who was appointed with no public "recruitment process" to speak of as required under the agency's rules, is now leading the "Strategic Transformation" of UNESCO, according to the agency.
An insider at UNESCO who cannot be named due to the threat of repercussions for speaking frankly told The Epoch Times that Qu is working on the "most sensitive part" of Azoulay's mandate. This allows the CCP to craft the UN agency in its own mold in a way that will endure for many years to come, the insider said.
"Today UNESCO is a lawless organization, a toxic political arena, with reduced to the minimum activities that should normally be at the heart of its action," the source told The Epoch Times on condition of anonymity. "Incompetent leaders sold out to China."
This is not a new phenomenon. During the previous administration of Bokova, who was trained in Moscow during the Soviet era and served as a senior official in the former Communist regime in Bulgaria, the UN agency was also closely connected to Beijing and other communist power centers—even while the U.S. government was a member.
The CCP now has the second-highest number of world heritage sites, and it is seeking to move key UNESCO education offices to China.
In 2017, long before the U.S. left, the CCP also signed a "Memorandum of Understanding" with UNESCO agreeing to increase cooperation on Beijing's controversial "Belt and Road" project. Bokova praised the CCP for its initiatives that have "set good examples for the international community," CCP media reported.
Under Bokova's administration, CCP member Qian Ting—a former official with the CCP's "Education Ministry"—served as assistant director-general for UNESCO.
Qian was even made "officer-in-charge" of the Bureau of Strategic Planning, giving the CCP wide influence in the path charted by the UN agency.
Perhaps even more significantly, Qian also led the UN's "Education 2030" agenda, a critical component of the UN "Sustainable Development Goals" (SDGs) also known as Agenda 2030.
Top UN officials have described the global agenda as the "master plan for humanity" and even the global "Declaration of Interdependence."
As she was seeking to become Secretary General of the broader UN, Bokova rewarded Xi Jinping's wife with the title "Special Envoy" for female education.
"You are an immense role model for millions of young girls in China and beyond," Bokova declared when giving the CCP dictator's wife the prestigious title.
On her way out from UNESCO, it was common knowledge among senior officials there that Bokova was hoping Qian would take her place. The CCP member was formally nominated for the top UNESCO post by the CCP, which is hoping to secure the agency's director-general position when Azoulay's term ends.
Unlike diplomats from other countries, who promise to work on behalf of international organizations rather than national interests while in UN agencies, CCP leaders have publicly declared that Chinese nationals in the UN must obey party orders. Former Interpol chief Meng Hongwei was even arrested by the CCP for, among other crimes, disobeying party orders while at the helm of the global policing agency.
Countering CCP, or Legitimizing and Funding its Agenda?
A number of influential voices from the foreign-policy establishment have proposed that the U.S. government rejoin UNESCO if only to counter CCP influence, which was well-established in the agency long before the Trump administration's exit.
Kristen Cordell of the Council on Foreign Relations, an internationalist powerhouse, for example, cited the CCP's influence in UNESCO as a key reason for Biden to rejoin in exchange for some concessions.
Critics ridiculed the idea, however.
Ambassador Moley, for instance, lambasted the notion that U.S. membership would rein in the CCP there as "wishful thinking."
"As we have experienced in engaging with UN organizations—people think we have a veto—we are simply one of 193 members," Moley said. "China has its useful idiots, including among the more than 130 governments in the G77 Plus China who make up most of the UN's members."
"As long as bribery, coercion, and blackmail are predominant tools of Chinese foreign policy, it is very unlikely that we can prevail in a UN forum such as UNESCO with our one vote," he added.
Emphasizing the seriousness of the matter, Moley called the CCP "our enemy" and "the greatest existential threat to our republic since 1860."
The insider from UNESCO similarly balked at the idea that re-joining the UN agency would give the U.S. government the ability to counter the CCP.
"If President Biden decides to return to UNESCO, it will be a good gesture towards China, which will please Beijing a lot, since it would legitimize its hold on the agency," the source said. "It will also please all the leftist globalists and will bring nothing but costly nuisance to the U.S. and Israel."
"In fact, Joe Biden would have more leverage to exert reform pressure at UNESCO by keeping the U.S. out," the Paris-based diplomatic source added.
The conservative-leaning Heritage Foundation's International Regulatory Affairs Fellow Brett Schaefer echoed concerns about CCP influence within the UN and its specialized agencies, saying it would be a "mistake" for the U.S. government to rejoin.
"Obviously, everybody should be concerned about Chinese influence in international organizations," he told The Epoch Times in a phone interview.
"The question I have on this, though, is whether UNESCO is even central to U.S. interests," Schaefer continued. "The U.S. did not participate and U.S. interests were minimally affected."
In addition, even when Washington was a member, "UNESCO was pursuing policies that the U.S. did not support and frankly were embarrassments to the organization and its mission and mandate," added Schaefer.
While countering the CCP is a worthy objective, he also expressed concerns about the large sum American taxpayers would have to hand over to rejoin UNESCO—more than $500 million just in arrears that would then be spent however the agency and its other member states wanted.
Pointing to the United States re-joining under Bush, the Heritage expert said there was already an established precedent for paying arrears in full.
"It's a windfall that they can use however they want to," Schaefer said.
That is almost certainly what would happen. "The new administration has made a practice of rejoining organizations such as the World Health Organization and the Human Rights Council without any conditions, so that would be the expectation of other member states, knowing that this administration would like to rejoin," he added.
UNESCO: Corrupt to the Core?
Aside from the allegations of anti-Semitism and extremism, UNESCO has long been plagued by corruption and politicization scandals at the highest levels.
Leaked minutes from the UNESCO Executive Board revealed that then-U.K. Ambassador to UNESCO Matthew Sudders slammed Bokova for alleged corruption in appointing cronies to aid her ambitions to rise further in the UN.
"As a U.K. civil servant, I have a duty to report all cases of possible or suspected fraud to our investigations department," Sudders declared. The comments were reportedly made with the full support of his government, which concluded that a "comprehensive external review" was needed.
More recently, under the current UNESCO administration, U.K. Ambassador to UNESCO Matthew Lodge demanded to know why member states were being kept in the dark about "confirmed financial fraud," unsanctioned misappropriation of funds, and more by top UNESCO leadership.
Even more bizarre were news reports suggesting there may be a link between Azoulay's troubles and an almost unprecedented late-night intrusion into UNESCO headquarters and IT systems by French government agents.
Reports also suggested that international civil servants in UNESCO chief Azoulay's office were improperly lobbying for the elimination of a second candidate for director-general of the agency.
UNESCO's Secretariat, which is overseen by Azoulay, did not acknowledge multiple requests for comment.
But in an e-mail to The Epoch Times, UNESCO General Conference President Altay Cengizer said the allegations of financial fraud raised by Western diplomats should be addressed but were beyond his competence.
Cengizer said he had "no idea" whether French authorities "played a part or not, in securing Member States' silence about the alleged disregard of the Secretariat of financial and accountability regulations since 2017."
"When allegations persist for such a long time, I think a clarification by the Secretariat, to set things straight, is the best way to deal with questions of financial irregularity," Cengizer said.
So far there has been no clarification.
Because UNESCO is hosted in France, he said the "somewhat entangled relationship" between Azoulay and French authorities was to be expected.
"In such cases, one hopes that it would not exceed a certain limit and not endanger several other balances that are innate to an international and intergovernmental organization," he said, noting that there were "strong reactions" to the "Spying Scandal" involving French officials being allowed into UNESCO headquarters at odd hours.
In the e-mail, Cengizer expressed concern—and has publicly in the past—about the "active lobbying by international civil servants for securing support for the re-election of the incumbent Director General."
The UNESCO General Conference chief said he did not have details surrounding the mysterious elimination of Azoulay's rival for leadership at the UN agency, a process that critics said was clouded by corruption.
"However, I think that the Member States should have been informed of such a development," he added.
While supporters of rejoining UNESCO argue that the corruption and extremism have been cleaned up since the U.S. departure, critics and even people closely associated with the agency say that is not the case.
A Difficult Road Ahead
On both sides of the debate about whether the U.S. government should rejoin UNESCO, there is agreement on one point: If it happens, it will be a complex process.
Writing in the New York Daily News this summer, former National Security Advisor and UN Ambassador John Bolton said it was "incomprehensible" why Biden would seek to resurrect the UNESCO issue—especially since Congress will "certainly reject" funding it.
"Biden would face a massive political struggle without the prospect of any substantive accomplishment," added Bolton.
In any case, any attempt to rejoin UNESCO would be a "significant mistake," he said.
"UNESCO has long been among the most politicized UN organizations," continued Bolton, saying it was an "error" to believe the agency was capable of reform.
Throwing fuel on the fire, UNESCO adopted two resolutions in October blasting Israel and calling on the international community to pressure Jerusalem to stop its "illegal" actions.
Pervasive corruption allegations and CCP influence surrounding UNESCO come amid an escalating scandal over Beijing's subversion at the World Bank and the International Monetary Fund, which further complicates Biden administration efforts to expand multilateralism.
An independent investigation recently found that IMF chief Kristalina Georgieva, also a Bulgarian with links to Bokova, improperly applied "undue pressure" on World Bank officials to manipulate data. The goal was to put the CCP in a good light in its official report on business climate, the probe concluded.
Top Biden officials including Treasury Secretary Janet Yellen publicly expressed concern and vowed to "monitor" the organization. But Georgieva, with ties to Communist forces in Bulgaria and beyond like Bokova, remains at the helm of the IMF.
UNESCO did not respond to phone calls and emails seeking comment.
The international agency is best known for its world heritage site designations, but also plays a major role in the UN's global education, culture, and science policy.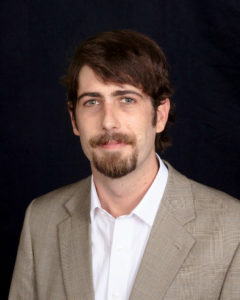 Related Articles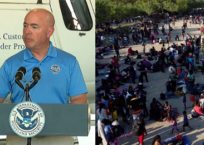 Our Border Crisis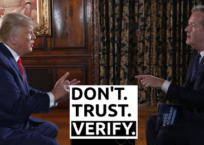 Donald Trump, the Media, and the Principle of 'Don't Trust, Verify'