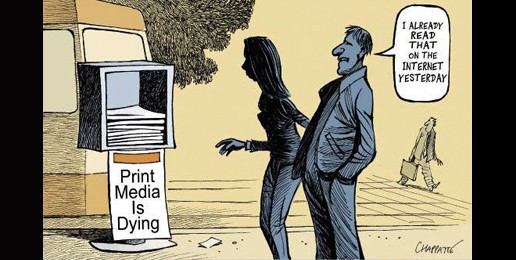 A new poll has found that newspapers continue to decline losing revenue, readers, and value. Over the past decade, weekday circulation has fallen 17 percent and ad revenue has fallen more than 50 percent. Change in ownership is more common too, as...

In a stunning, counter-cultural op-ed appearing in the LA Times and Chicago Tribune, Dr. Eric Vilain, professor of pediatrics and human...

As the calendar slips toward the lazy, hazy, crazy days of summer, there's a storm cloud hanging over America that...

I said it was coming. Many of us did. Two years ago this week the Boy Scouts of America voted...

The co-author of a study that claimed opponents of same-sex "marriage" can be quickly persuaded to change sides on the issue has retracted the findings after learning that the data used to make the assertion was fake.

People living in Chicago's Rogers Park neighborhood are in for a shock, says an Illinois-based family advocate.

05.26.15
The researchers found that nearly three quarters of young men who reported significant gambling problems were also suffering from depression.