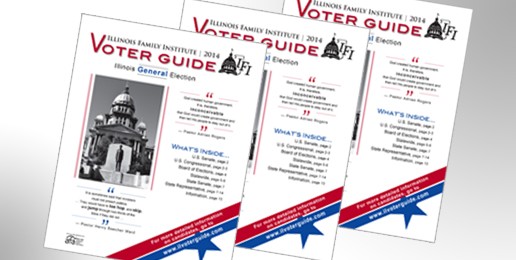 10.30.14
Below is the IFI Voter guide broken down by congressional district, the full version can be found HERE. Voter Guide Breakouts: 1st Congressional District 2nd Congressional District 3rd Congressional District 4th Congressional District 5th Congressional District 6th Congressional District 7th...

10.30.14
Two proposed changes to the Illinois Constitution will be on the November 4th ballot — one pertaining to crime victims' rights and the other, elections. In addition, three advisory referenda will be on the ballot.

10.29.14
In the July/August 2013 issue of Touchstone, the editors rejected the idea that one could be both "gay" and Christian. The basis of that belief, we said, is exemplified in St. Paul's assurance to the Corinthian church that what some of its believers used to be—and here he recited a catalog of sins that included arsenokoitai ("sexual perverts")—they no longer were, because they had been washed, sanctified, and justified in the name of the Lord Jesus Christ and the Spirit of our God

Amazing Grace is now an amazing new musical. And a great reminder of why Christians need to be involved in the arts.

Liberals have given us some silly ideas over the years. Gun-free zones. Public-sector unions. Socialized medicine. On and on. The...

The heavy hand of misused government power is getting heavier by the day. Given the Obama Administration's vast abuses of...

10.24.14
Written by Allen Sears I recently wrote to invite you to enlist your pastor to participate in our seventh annual Pulpit...

A recent article in The Telegraph titled "Incest a 'Fundamental Right', a German Committee Says" was precipitated by the infamous case...