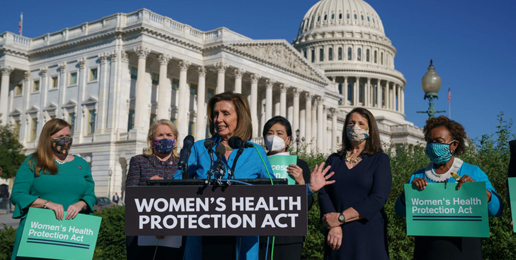 Radical Pro-Abortion Bill in Washington D.C.
Last Friday, by a vote of 218 to 211, the U.S. House of Representatives passed a radical pro-abortion bill that would essentially codify Roe v. Wade. The so-called "Women's Health Protection Act of 2021" (H.R. 3755) would create an absolute right to abortion in federal law, superseding all state laws. The vote fell along party lines, with only one Democrat—U.S. Representatives Henry Cuellar (D-TX)—voting against the bill.
The dangers of this extreme pro-abortion bill cannot be overstated. Contrary to its name, this bill endangers women in innumerable ways. It removes countless state restrictions and limits on abortion, allowing for abortion up to the point of birth so long as one "health care provider" determines that the "continuation of pregnancy would pose a risk" to the mother's life or "health." The definition of "health care provider" in the bill is extremely broad and includes certified nurse-midwives, nurse practitioners, and physician assistants.
Moreover, in light of the U.S. Supreme Court's ruling in Doe v. Bolton, a companion case to Roe, "health" in the context of abortion is extremely broad and can include physical, emotional, psychological, and familial conditions, including the woman's age.
Take ACTION: Click HERE to send a message to U.S. Senators Dick Durbin, Tammy Duckworth and Republican Senate Minority Leader Mitch McConnell to ask them to oppose H.R. 3755 should it come up for a vote.
Co-sponsors of H.R. 3755 from Illinois include: U.S. Representatives Robin Kelly (D-Chicago), Jan Schakowsky (D-Evanston), Bobby Rush (D-Chicago), Sean Casten (D-Wheaton), Danny Davis (D-Chicago), Bill Foster (D-Joliet), Chuy Garcia (D-Chicago), Raja Krishnamoorthi (D-Schaumburg), Marie Newman (D-Chicago), Brad Schneider (D-Lincolshire), Lauren Underwood (D-Crystal Lake), Mike Quigley (D-Oak Park) and Cheri Bustos (D-Moline).
Background
The Women's Health Protection Act would strike down state level pro-life protections and prevent state legislatures from taking action regarding abortion. Such an example is Illinois' Parental Notice of Abortion law.  The bill also targets funding for abortions by removing pro-life protections such as the Hyde Amendment, which prevents federal taxpayer dollars from supporting abortion, and the Weldon Amendment, which prevents taxpayer dollars from being used to discriminate on the basis of a health care entity's refusal to provide, pay for, or refer women for abortion.
Thankfully, as the National Review reported, the bill is unlikely to receive the necessary votes to pass the U.S. Senate. The Senate is currently made up of 50 Republicans, 48 Democrats, and 2 Independents, and 60 votes are required to end a filibuster. Even some "pro-choice" Republican senators have expressed hesitation about the bill, such as U.S. Senator Susan Collins (R-ME), who commented that "parts of the bill are too 'extreme' for her," and that "the bill would 'severely weaken' conscience rights by denying protections afforded by the Religious Freedom Restoration Act."
We think it's important to make sure that not only our two U.S. Senators know what we think about this legislation, though they be pro-choice, but we also want to put on notice the Republican leader of the U.S. Senate, Mitch McConnell.
Moreover, IFI urges you to pray for all of our federal lawmakers and then speak out to condemn the wickedness of abortion and those sponsoring the so-called "Woman's Health Protection Act."
---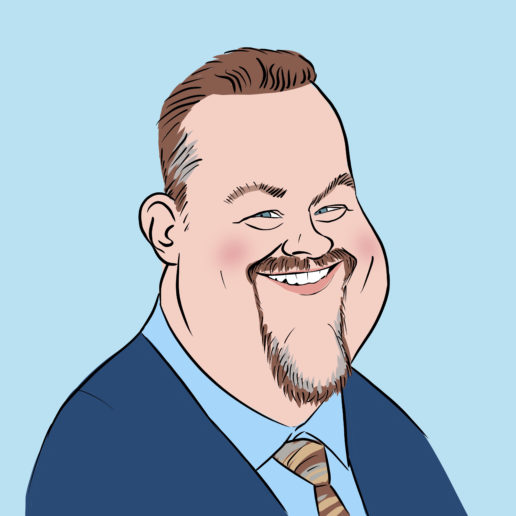 Illinois Family Action
(501c4). David has 30 years of experience in public policy and grass-roots activism that includes countless interviews for numerous radio, television, cable programs and newspaper articles on topics such as the sanctity of life, natural marriage, broadcast decency, sex education, marijuana, gambling, abortion, homosexuality, tax policy, drug decriminalization and pornography. He and his wife of 28 years are blessed to be the parents of eight children. They strongly believe that their first duty before God is to disciple their children in the Christian faith, and...
Related Articles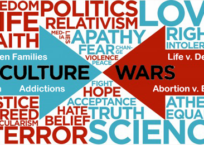 Why We Engage in the Culture Wars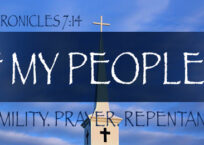 Now What? Thoughts On The 2022 Midterm Elections