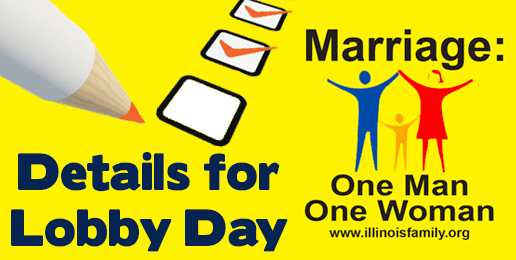 Details for Defend Marriage Lobby Day
Please watch this 2 minute video and send it to like-minded friends to encourage them to join us for our second Defend Marriage Lobby Day at the Capitol on Wednesday: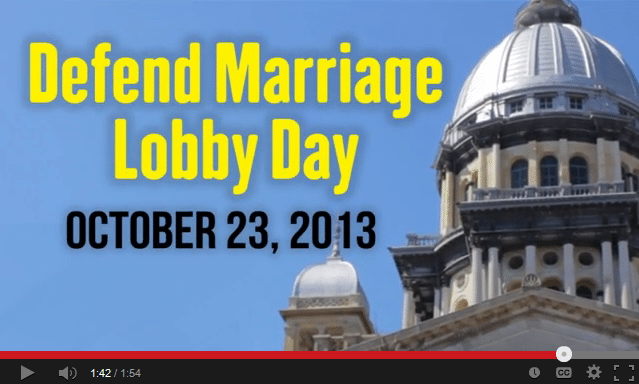 INSTRUCTIONS — PRIOR TO ARRIVING IN SPRINGFIELD 
Know the name and office address of your state representative.

CLICK HERE

  
Bring picture ID to go through security.  
We suggest that you bring a lunch, snacks and drinks.  
Wear comfortable walking shoes.  
Looking for a ride to Springfield?  See bus locations below. 
INSTRUCTIONS – UPON ARRIVAL IN SPRINGFIELD
1.)  After passing through security, go to the north hallway in the Rotunda. If you know your state rep, proceed to the tables on the west side of the hallway to pick up your information packet and button.  If you do NOT know your state rep, proceed to the tables on the east side and computer volunteers will assist you.
2.)  Take signed letter, found in your information packet, to your representative, Speaker Michael Madigan (D-Chicago) and Minority Leader Jim Durkin (R-Burr Ridge).
3.)  Attend any of these scheduled event:
9:00 AM – 10:30 AM     Prayer Rally at Lincoln Statue (2nd St)
9:00 AM – 3:00 PM        Visit your state rep & 2 other leaders
11:00 AM – Noon              Marriage Rally in the Rotunda
Noon – 1:00 PM                 Special Music in the Rotunda         
1: 00 PM – 3:00 PM         Marriage (Jericho) Prayer Walk
BUS LOCATIONS
Buffalo Grove area
St. Mary School
10 N. Buffalo Grove Rd (intersection of Lake-Cook & Buffalo Grove) in Buffalo Grove
Contact Fred Sturgeon – (847) 344-8791 or Ted Valenti – (847) 910-2009
Leaving at 7:15 AM (school bus) and returning from Capitol at 2:30 PM
Cost per person $20
Chicago area
Israel Methodist Community Church
7616 Cottage Grove, Chicago
Departing at 6 AM and returning from Capitol at 2:30 PM
Contact Dr. Crawford, Pro-Life Pro-Family Coalition, (773) 960-5656 or (773) 483-1131
Cost per person $10 (includes lunch)
Queen of All Saints Basilica
6280 N. Sauganash Ave. in Chicago
The bus leaves at 5:30 AM 
Contact the Archdiocese of Chicago's Respect Life Office, (312) 534-5355
Cost is $25 which includes lunch
St Thomas More Church
2825 W 81st St, Chicago
Contact Kathy at (773) 436-4444
Call for cost and departure details 
Salem Baptist Church
752 E. 114th Street in Chicago
Departing at 7 AM and returning from Capitol at 2:30 PM
Contact LaNiece at (708) 227-3189
Crystal Lake area
St. Thomas The Apostle Church (176th & Oak St.) in Crystal Lake
Departing @ 6: AM and returning from Capitol @ 2:00 PM
Contact Phil Weyna, McHenry County Right to Life, (815) 861-5847
Cost per person $30
Hobby Lobby in the parking lot
6250 Northwest Hwy  Crystal Lake, IL 60014
Departing at 6:00 AM and return to Crystal Lake at 6:00 PM
Register at www.truthexchange.net
Questions: Email KathyBarnette@TruthExchange.net 
Southern Suburban areas
Faith Church at 100 – 81st Ave. Dyer, IN 46311
Departing at 6:30 AM (church van(s)) and returning from Capitol at 12:30 PM
Contact Bob Hofstra, (708) 257-7772
Cost per person – TBA
Stone Church
10737 Orland Parkway, Orland Park, IL  60467
Departing at 6:30 AM and leaving Springfield at 2:30 PM
Contact Wayne Matulis at (708) 473-4116
$25 per person
Calvary Baptist Church
17430 94th Avenue in Tinley Park, Illinois  60477
Departing at 6:00 AM and leaving Springfield at 2:30 PM
Contact Sharon Hammond at (708) 396-9877
No Cost
Libertyville area
Marytown – 1600 W Park Ave. (Butterfield Rd & Rt 176) in Libertyville
Departs from Marytown at 6:00 AM and returning from Capitol at 2:00 PM
Contact Bonnie Quirke, Lake County Right to Life, (847) 644-8456
Cost per person $35
Lincolnshire area
Sedgebrook Retirement Community
800 Audubon Way (directly east of Barnes & Noble)
Lincolnshire, IL 60069
Leaving at 6:00 AM and  returning from Capitol at 3:00 PM
Contact Phil Wertz (847) 415-2514 or at (847) 828-5828
Cost per person $30
O'Fallon area
WalMart at 1530 W US Hwy 50 in O'Fallon
Departing at 8:30 AM (school bus) and returning at 4:00 PM
Contact Ken Brosh, (618) 540-5960
Cost – $13 per person 
Western Springs Area
St. John of the Cross Catholic Church
5005 S. Wolf Road in Western Springs
Contact the Archdiocese of Chicago's Respect Life Office, (312) 534-5355
Cost per person $25 which includes lunch
Wheaton area
Wheaton Wesleyan Church at 1300 S President St, Wheaton
Departing at 5:30 AM and returning from Capitol at 3:00 PM
Contact Dick Norton, (630) 260-1135
Cost per person $34
Freeport area
East Gate Christian Center
1650 S. Armstrong Ave. in Freeport
Contact Pastor Steve Barr at (815) 541-5898
Cost per person: $5