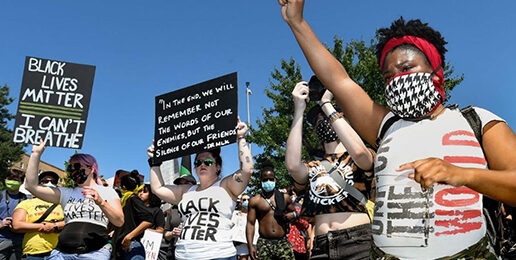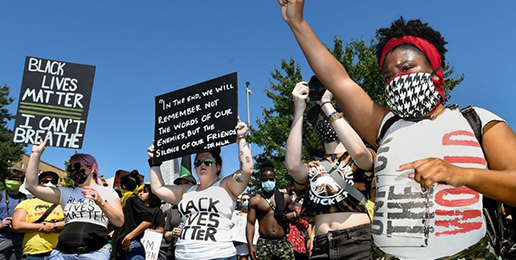 Fomenting Racism in the 21st Century
The ideology of Black Lives Matter (BLM) and other "social justice" organizations teaches that all whites are racist oppressors, thereby justifying verbal attacks on people who are deemed inveterate racists and justifying riots to destroy everything that has emerged from an allegedly irremediable racist system. In promoting an explicitly racist ideology, BLM and other "social justice" organizations institutionalize racism, and we are suffering the fruits of that poisonous ideology.
In the hell-bent quest by America-hating revolutionaries to destroy America by destroying its institutions and history, 60 monuments have been removed, ordered removed, defaced, or torn down. In addition, according to Reinsurance News,
While no estimates of the costs of the damage is available yet, a look back at the costliest U.S. civil disorders shows that there's potential for claims from the current riots, which are in multiple cities, to have easily run into the billions of dollars already.
Worse still, this BLM-led revolution has resulted in 25 deaths, hundreds of injuries—including injuries to 700 law enforcement officers—and the establishment of a rogue nation in the midst of downtown Seattle with the blessing of the incompetent mayor who called the squalid, uninhabitable, and dangerous encampment a free-love street festival.
The culture-destroyers are not done yet. Well-known racist activist Shaun King, whose purported racial identity and numerous fundraising projects are questioned by even leftists, recently tweeted,
Yes, I think the statues of the white European they claim is Jesus should also come down. They are a form of white supremacy. Always have been.
and
All murals and stained glass windows of white Jesus, and his European mother, and their white friends should also come down. They are a gross form white supremacy. Created as tools of oppression. Racist propaganda. They should all come down.
BLM, with whom King was previously associated, is a destructive revolutionary group leading a Maoist-like cultural revolution, and many conservatives don't seem to understand that. Those who support BLM and its skin-pigment-obsessed divisive, separatist, elitist ideology are de facto racists, no matter their skin color.
In National Review, Kyle Smith describes the white liberal BLM disciples as "the White-Guilt Cult":
Amidst nationwide Black Lives Matter protests, a black man and woman are seated on a park bench while a white woman … takes to her megaphone. "We repent on behalf of, uh, Caucasian people," she says. A small crowd of white people comes to kneel before the two seated black folks, who are co-pastors of a local church. Some of the kneelers wash the feet of the black people. … Several people start audibly weeping, or keening, as the speaker continues. Roughly a dozen people join in the gesture and kneel before the black couple. "We have put our necks, put our hands, our knees, upon the necks of our African-American brothers and sisters, people of color, indigenous people." …

The original sin in the White Guilt Cult, the New Church of Anti-Racism, is to be, "uh, Caucasian people." … If anything, the Great Awokening's response to the George Floyd killing seems to be bolstering racial barriers rather than eradicating them. By making a religion of anti-racism, white people carry on with the longstanding project of "othering" black folks. … Take the principles of Woke in vain and you invite instantaneous ritual chastisement—the most thrilling, ecstatic element of the woke religion. The techno-narcissistic innovation of the Wokesters is that they have made themselves, as a collective, their own godhead, equipped with the authority to wield and unleash the thunderbolt of righteousness on blasphemers here and now, on their own authority. …

"White silence equals violence" is one new precept gaining currency. …  How exciting it must be to upend the meanings of words in service of the greater cause of smiting one's perceived enemies, or even whatever suspected counterrevolutionaries there may be among one's sworn allies. No one dared to be the first to stop applauding a Stalin speech. 
Even Chick-fil-A CEO Dan Cathy has joined the anti-biblical white-guilt Cult, last week calling for white people to pay penance for sinful acts of racism that they never committed by shining the shoes of black people.
The ideology of BLM grows out of Critical Race Theory (CRT), which is essentially repackaged socialism with its focus on economic redistribution. CRT like that espoused by BLM and scores of other organizations and ideologues emphasizes redistribution of wealth and values uniformity of economic and social position over liberty. Those whose worldview has been shaped by CRT–also known deceptively as "social justice warriors," seek to use the force of government to establish economic uniformity.
CRT focuses on race, sex, class, "sexual orientation," and "gender identity." It encourages people to view the world through the divisive lens of identity politics, dividing groups into "oppressors" and "oppressed." Those who are identified as "oppressors" need not have committed any acts of actual persecution or oppression, nor feel any sense of superiority toward or dislike of the supposed "oppressed" class. CRT promotes the idea that "institutional racism," as opposed to actual acts of mistreatment of individuals by other individuals, is the cause of differing lots in life.
"Social justice" activists cultivate the racist, sexist, heterophobic belief that whites (especially males and heterosexuals) are oppressors—a belief that robs minorities of a sense of agency in and responsibility for their own lives, telling them that their lots in life cannot improve through their own efforts but only through endless confessions of guilt on the parts of the purported oppressors. CRT cultivates a sense of perpetual victimization and powerlessness on the parts of minorities and an irrational and illegitimate sense of guilt on the parts of whites (or men or heterosexuals).
Finally, social justice theory is distinctly anti-American and hyper-focuses on America's mistakes and failings. CRT diminishes or ignores the remarkable success America has achieved in integrating virtually every ethnic and racial group in the world and in enabling people to improve their lots in life through economic opportunity and American principles of liberty and equality.
Racism peddlers—including colorless racism-peddlers and profiteers like Robin DiAngelo, author of White Fragility—disseminate their cancerous ideology everywhere. Many Americans view our colleges and universities as the primary indoctrination centers, but they should look at government middle and high schools, because indoctrinating the next generation begins long before college.
Through "professional development"—which are the teacher training workshops, seminars, and conferences that take place during summer breaks, institute days, and late-arrival days—teachers are being coached and pressured by administrators and colleagues to adopt the beliefs of "anti-racism" and diversity trainers whose hefty fees are paid for by the public.
Teachers are forced to attend these indoctrination workshops, which never include resources or experts that challenge the assumptions of "anti-racism" trainers. Teachers are then expected to incorporate these revolutionary, leftist, and dubious beliefs into their classroom instruction. Our taxes are being used in government schools to teach children to hate America.
The predatory "anti-racism" scammers profit from peddling guilt to whites, shaming them into falsely believing—or pretending to believe—they are racists. The snake-oil salesmen and women do that in two ways. First, they redefine racism. Racism no longer refers to the belief that people with brown or black skin are by nature inferior. Nor does it refer to individual acts of incivility, unkindness, oppression, or violence. It refers to being white in a culture whose power structures used to be controlled by whites. Whites are guilty of racism and oppression based on nothing more than the color of their skin. This repugnant redefinition is the antithesis of Dr. Martin Luther King Jr.'s dream for America. It is also unbiblical.
The second way snake-oil salespersons peddle their ugly wares is equally sneaky. They recast all criticism of or opposition to their ideology as something negative, thereby making those who disagree reluctant to express their opposition. Robin DiAngelo insultingly describes the denials of white-skinned people that they are racists as "white fragility." Those whites who  aren't racists don't want to deny being racists because if they do, they'll then be charged with non-existent white fragility on top of their non-existent racism.
When I worked at Deerfield High School, the district hired expensive racism huckster from California, Glenn Singleton, to teach District 113 employees about their racism. At his first lecture to the entire district, Singleton pre-classified his audience as falling into three categories according to their potential responses to his theories: The first group were those who would agree with him immediately. The second group were those who would be on the fence and need to be convinced. And the third group were those "who are gifted at subverting reform." Singleton cunningly attempted to prevent criticism by pre-labeling pejoratively those who disagreed with him. This dishonest labeling tactic works because conservatives let it.
Organizations, resources, and profiteers that provide "anti-racism" propaganda to government schools are numerous, but here are some that taxpayers should watch out for:
The 1619 Project—a much criticized revision of American history by the New York Times and racism-peddler/activist Nikole Hannah-Jones
Teaching Tolerance, a project of the Southern Poverty Law Center
White Privilege Conference
Pacific Education Group/Courageous Conversation About Race—founder Glenn Singleton
National SEED Project (Seeking Education Equity and Diversity)
"White Privilege: Unpacking the Invisible Knapsack"—essay written by Peggy McIntosh
The People's History of the United States, a revisionist history written by Howard Zinn
It is not racist to criticize the loathsome and radical BLM that is explicitly committed to "disrupting " the "Western-prescribed nuclear family structure led by a father and mother, and to normalizing homosexuality and "trans"-cultic beliefs and practices. Such justifiable criticism does not become racist just because leftists shriek over and over and over that it is. Their epithet-hurling is not a magical incantation that turns truth into ugliness. It is a means of intimidation that leftists use all the time because conservatives quake and crumble in its wake.
Snap out of it, conservatives or you feed and strengthen the belching behemoth.
Listen to this article read by Laurie:
---
Subscribe to the IFI YouTube channel
and never miss a video report or special program!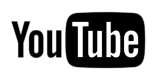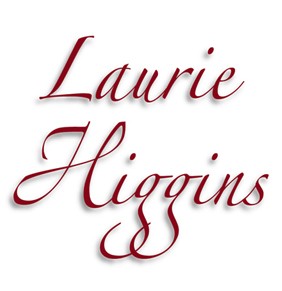 Related Articles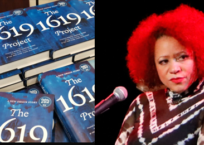 1619 Project Author Gets Historical Facts Wrong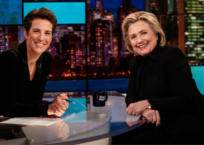 Rittenhouse and Justice in a Leftwing Dystopia