Take Action
IFI Voter Guide Resources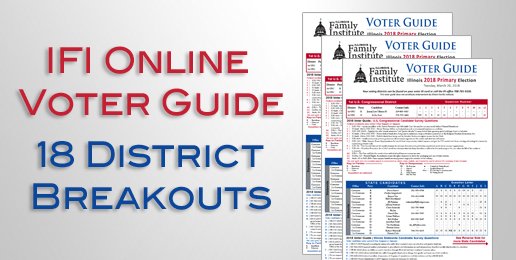 The full 16-page version of the IFI 2018 Primary Election Voter Guide is available for download HERE. You can also order them in bulk to distribute in your church or neighborhood. They include candidate positions on several issues. In this guide you will find important information about many of the candidates for Illinois Governor, U.S. House of Representatives, and both chambers of the Illinois General Assembly.
If you would like to get bulk quantities for your church, neighborhood or civic organization, please call IFI to order them at (708) 781-9328 or click HERE to send an email request.  Supplies are limited, so don't delay.
IMPORTANT:  Please take a moment to look up your U.S. Congressional, State Senate and State Representative districts HERE prior to using the IFI Voter Guide. Your U.S. Congressional district is the last one listed under Federal; State Rep is the last one under State and State Senate is just above it. Make a note of your district numbers. These 3 numbers are the only ones you will need. The other races are statewide.
Congressional District Breakouts of IFI's 2018 Primary Election Voter Guide are now available for download!!
Listed below, we have 18 different two-page local Voter Guides — one for each of Illinois' Congressional Districts. By printing the two-page local Guide front to back on legal size paper (8.5″ x 14″), you can easily make this a one-page handout. These are non-partisan and completely legal under IRS guidelines for distribution in churches. If you are unable to print them, please call our office (708) 781-9328.
Voter Guide Breakouts:
Will you volunteer to help distribute voter guides?
Please help us get these voter guides into the hands of like-minded concerned citizens and in churches across the state.
These voter guides are 501(c)(3) safe and legally approved for church distribution as these are strictly educational reports of where candidates stand on the issues.
Thank you for caring enough to get involved!
Thank you for your assistance and for your support of Illinois Family Institute!
---
Support the IFI Voter Guide
Our get-out-the-vote campaign is up and running. We are distributing the IFI Voter Guide to hundreds of churches, civic groups and tea party organizations. Will you financially support our endeavor to educate Illinois voters and promote family values?  Donate today.