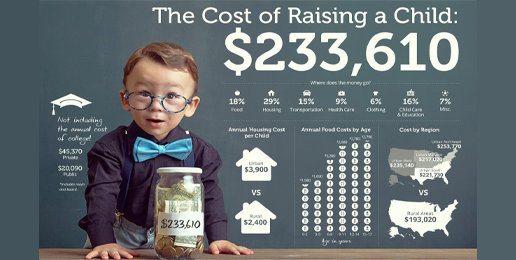 Feds Are Simply Out-of-Touch
The U.S. Department of Agriculture (USDA) recently claimed in a press release that the cost of raising a child from birth through age 17 is $233,610, or almost $14,000 annually. As the father of seven children, let me say that this is utter nonsense.
Moreover, the USDA fails to identify the multiple benefits of raising children, such as the physical, spiritual, intellectual and emotional advantages. These benefits are not just unquantifiable, but inestimable. The value of raising, nurturing and training children far surpass the outlandish financial estimates of Washington D.C. bureaucrats.
With the USDA's exaggerated estimates, how do we expect to encourage married couples to return to the healthy birth rate of more than 2.1 in the United States?  We're shortsighted if we fail to see that the current U.S. trend is unsustainable and portends economic trouble, including lower living standards for most citizens. We simply have to look at Japan, Greece or Italy for a lesson in the detriments of low birth rates.
Federal officials are simply out-of-touch with Middle America. Most of us don't spend hundreds of dollars on a hammer and we spend far less than they estimate to raise our each child every year.
Maybe the federal government can learn something from working families?