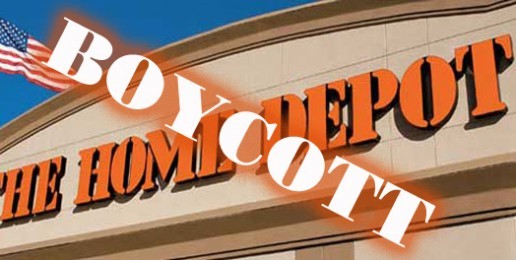 AFA Announces Nationwide Boycott of The Home Depot
Reading Time:
2
minutes
The American Family Association ("AFA") called today for a nationwide boycott of The Home Depot because of its support for the radical homosexual agenda, and in particular for exposing young children to homosexual behavior.
Despite extensive communication between AFA and The Home Depot, Home Depot officials remain unmoved and resolved to continue allowing their affiliates to sponsor as many pro-gay, pro-transsexual events as they'd like. Home Depot spokesman Stephen Holmes said, "At the end of the day here, we're not going to . . . forbid our associates to be involved in these pride festivals in any way."
Said AFA president Tim Wildmon, "The Home Depot, through any number of its affiliates, has given its money and its name to gay pride parades and festivals. We've appealed to them to stay neutral in the culture wars, but they are determined to keep using their influence to push the normalization of homosexual behavior. Everyone of these pride events pushes the recognition of homosexual marriage, so The Home Depot has clearly chosen sides on that issue."
Information the AFA has gathered (found at www.BoycottTheHomeDepot.com) is particularly damaging. Posted there is a picture of young children holding Home Depot cups with flags in them. The flags, handed out to these children by homosexual activists, contain information about how to get to a website that bills itself as "the men's social group for men who have sex with men."
A mother who attended the Maine Pride festival sponsored by The Home Depot wrote on the Maine Pride Facebook page that a number of women exposed themselves to her young children, all of whom were under the age of 10.
Holmes said, speaking for The Home Depot, "The bottom line is, it (remaining neutral) just runs counter to our inclusive culture…and that's where we stand."
Says Wildmon, "Apparently their definition of inclusion involves exposing young children to displays of sexually explicit conduct and helping children find websites that tell them how to have homosexual sex.
"It's astonishing and appalling that The Home Depot would defend its sponsorship of events like this.
"The problem for The Home Depot is that when it comes to shopping for home improvement products, America's moms and dads have a lot of alternatives. We're calling on all American families to exercise their freedom of choice by boycotting The Home Depot until it agrees to stay neutral in the culture wars.
"It's no longer 'The Home Depot,' it's now 'The Homosexual Depot.'
"Once America's families recognize that, they're going to buy their doors and light fixtures and lawnmowers someplace else. Pro-family Americans don't want their shopping dollars used to expose their children to homosexuality, but that's exactly what's happening when they spend money at The Home Depot."