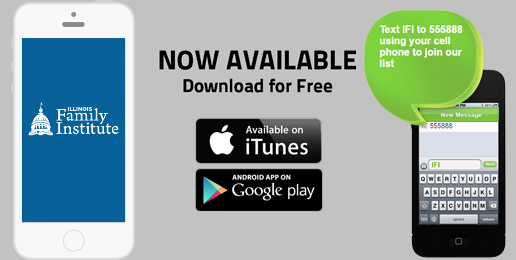 New IFI Tools for Conservative Christian Activists
It has been said before, and I believe it is true, that the ideological battles taking place in the public square and for the minds of the young are battles of communication and control of the narrative. In many ways, Christian conservatives have failed to take advantage of the tools and social networks available to  circumvent the dominate media, which excel at advancing an anti-Christian agenda, especially on the social issues.
In an effort to increase awareness and broaden our platform, IFI is excited to tell you that we've recently added two components to help you stay informed and equipped and to enable you to take action quickly and easily when necessary.
Recently we added a "Text Alert" system, and this week we have finalized our IFI app for smart phone users. These are invaluable communication tools that enable us to reach people on their iPhone, Android or Google device(s), including tablets.
In addition, text alerts will allow you to respond immediately to important issues with a click of a link (We will never rent or sell your information).
>>Text Alert: I urge you to join today. Text IFI to 555888 or click HERE to fill in a short form to enlist. You will receive a prompt reply thanking you for subscribing. Of course, you can easily opt out at any time.

>>IFI App: Likewise, through the IFI mobile app, we are able to deliver great content based on the the "Tracks" you choose, including timely alerts, cultural commentaries, upcoming event notifications, links to our podcasts, video reports, and even daily Bible verses to encourage you.
I hope and pray that all culture warriors and concerned citizens alike will sign up for both of these tools to help them oppose the latest rot being promoted in the culture–including by our lawmakers–or support policies that contribute to the public good and human flourishing.
We are glad to add these tools to our existing platforms: You can follow IFI on Twitter, watch and subscribe to the IFI YouTube channel, and listen to the weekly Illinois Family Spotlight podcast.
---
The Illinois Family Institute is completely dependent on voluntary contributions of individuals just like you. Without you, we would be unable to fulfill our mission. Please consider a donation to support our efforts!
To make a credit card donation over the phone, call the IFI office at (708) 781-9328.